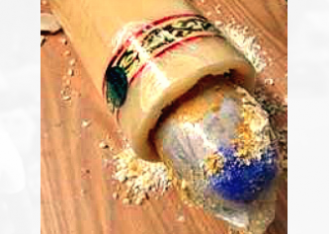 Apparently nothing is sacred or off limits anymore to drug smugglers when it comes to getting their goods into the United States.  Not even a religious ceremonial candle is safe, as officers with the U.S. Customs and Border Patrol in Los Angeles recently discovered.
On August 3, CBP officers working at an airport cargo facility in Ontario, California examined a package shipped from Mexico and destined for North Carolina.  According to a CBP Los Angeles press release, the officers discovered what appeared to be some sort of religious ceremonial candle that was apparently extremely heavy.
The officers reportedly ran the item through an x-ray machine and the images revealed a false cavity hollowed out inside the candle. Initially mindful of the potential sensitivities surrounding cutting into a religious item, officers made a small incision in the candle to extract and test the contents.
"Our officers are very mindful of an individual's property including spiritual items, yet they remain focused on keeping dangerous drugs off the streets of our community," Mitchell Merriam, CBP Los Angeles Area Port Director, said in a statement.
According to the press release, after making the small incision, officers discovered "a white-crystal substance that tested positive for crystal methamphetamine."  The positive test allowed officers to completely open up the candle.  Once inside, they discovered a dark-blue cylinder shaped packed with 1.6 pounds of methamphetamine hidden in the false cavity.  The CBP says the street value of the drugs is in excess of $20,000.
The seized items were then turned over for further investigation to U.S. Immigration and Customs Enforcement Homeland Security Investigations special agents.
Have a tip we should know? [email protected]