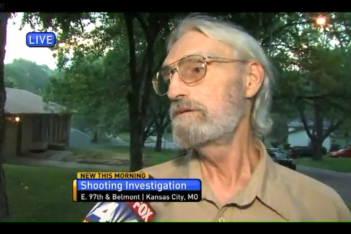 An alleged armed home invasion robbery suspect apparently targeted the wrong house on Tuesday morning in Kansas City, MO.  According to a neighbor, the would-be-victim/homeowner somehow managed to gain control of the alleged suspect's firearm during the botched home robbery attempt. The homeowner then reportedly shot the alleged suspect in the stomach, ending the threat.
WDAF-TV Fox 4 reports the incident began when the ADT security company called police around 2:00 AM on Tuesday morning, after a motion detector sensor went off at the home in south Kansas City.  Moments later, a woman reportedly called police from inside the same home to report a man was trying to break into the house.
While police were en route to the scene, another 911 call in from a man inside the home who reported that he had just shot the alleged robber in the stomach.
WATCH:
The homeowner's neighbor, John Dudley, told a local reporter he heard gunshots shortly after 2:00 AM early on Tuesday morning.  Dudley said he opened his front door and discovered his neighbor was outside.  After trying to calm him down, Dudley said the neighbor explained how an armed man tried to break into his home.  He then told Dudley he was able to wrestle the gun away from the man and shot him.
Dudley said he then grabbed a flash light and shined it over toward the neighbor's home where he says he saw a "a fella laying on the front porch, groaning and moaning."
Police showed up on scene shortly thereafter, and the alleged suspect was taken to the hospital where he was listed in critical condition.
Dudley also told the reporter police officers handcuffed the neighbor and placed him inside a police car for questioning.  It is not immediately clear if the homeowner was formally arrested or charged with any crime.
Missouri law allows an individual to use force, including deadly force, "against a person who unlawfully enters, remains after unlawfully entering, or attempts to unlawfully enter a dwelling [or] residence …lawfully occupied…."  The statute further provides, "A person does not have a duty to retreat from a dwelling, residence, or vehicle where the person is not unlawfully entering or unlawfully remaining."
Have a tip we should know? [email protected]