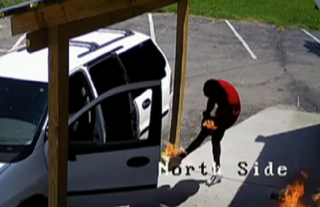 Surveillance video outside a Kentucky building appears to show an attempted arson gone wrong. The footage, posted by the Madisonville Police Department and obtained by Fox News, shows a man exiting a vehicle outside a building Sunday morning, with what looks like a Molotov cocktail. The individual threw a bottle towards the building, at which point a flame erupted, shooting back at him, his leg catching fire.
The suspect, who has yet to be apprehended or identified by the police, can be seen running away, pants on fire, as another camera captures him falling into nearby grass.
Looks like his plan, um, backfired.
[Image via screengrab]
Have a tip we should know? [email protected]