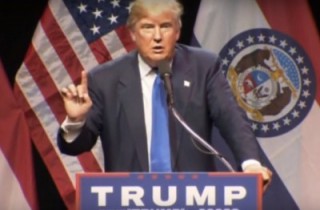 Like any politician running for office would, Republican presidential candidate Donald Trump publicly praised the law enforcement officials who caught Ahmad Khan Rahami, a man linked to a Saturday bombing in New York City.
Great job once again by law enforcement! We are proud of them and should embrace them – without them, we don't have a country!

— Donald J. Trump (@realDonaldTrump) September 19, 2016
But Twitter users have a long memory, and they called Trump out for statements he's made, saying political correctness is getting in the way of investigators. First came MSNBC political commentator Chris Hayes.
Earlier today Trump accused law enforcement of *intentionally* not going after suspects because of "political correctness"

— Christopher Hayes (@chrislhayes) September 19, 2016
I thought that they were too politically correct to do the job? https://t.co/QMku1630D9

— Brian Beutler (@brianbeutler) September 19, 2016
Within 9 mins, he went from praising law enforcement to saying they failed pic.twitter.com/FtqhnY38Xp

— Sam Stein (@samsteinhp) September 19, 2016
@chrislhayes Did law enforcement "unintentionally" apprehend him today?!

— Dawn❤SeekUp41 (@DawnSeekUp41) September 19, 2016
@chrislhayes His mouth opens and out comes nonsense, proved minutes later when the suspect is taken into custody by police.

— Steven Beschloss (@StevenBeschloss) September 19, 2016
@chrislhayes And he's endorsed by the largest Police Union in the nation. I bet they loved that quote. lol

— BBQ (@BBQchknMadness) September 19, 2016
@chrislhayes And now @realDonaldTrump is congratulating law enforcement. He is erratic and uninformed.

— It's All Good (@sharpetax) September 19, 2016
This isn't even half the tweet chain. Breaking news: A lot of people don't like Donald Trump. In case you just returned from a Mars vacation, he is running against Democratic presidential nominee Hillary Clinton. To say it has been an ugly race is like saying month-old milk is "sort of gross."
[screengrab via Right Side Broadcasting]
–
Follow Alberto Luperon on Twitter (@Alberto Luperon)
Have a tip we should know? [email protected]