Last night, Wikileaks tweeted a link for people to click if they wanted to download the text of Michael Wolff's book Fire and Fury: Inside the Trump White House without paying for it. As Law&Crime Editor-in-Chief Rachel Stockman noted, there are serious legal issues with this, as it looks like a major copyright infringement. On top of legal issues though, it's also against Twitter's own policy. Wikileaks deleted their original tweet soon after they posted it, but another one went up later in the evening. While we don't want to link to the post and encourage clicks, here's a screengrab: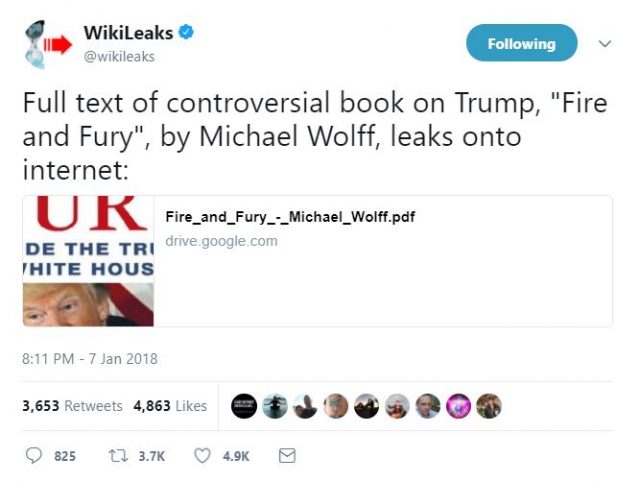 Twitter's copyright policy states:
Twitter will respond to reports of alleged copyright infringement, such as allegations concerning the unauthorized use of a copyrighted image as a profile or header photo, allegations concerning the unauthorized use of a copyrighted video or image uploaded through our media hosting services, or Tweets containing links to allegedly infringing materials.
Complaints can result in "the removal or restriction of access to allegedly infringing material."
A link where people can easily acquire a free copy of the text of a newly published, commercially available book instead of paying for it at a store or online–without the publisher's permission–sure looks like a clear case of "infringing material."
The book's publisher, Henry Holt and Co., told Law&Crime that their piracy team is handling the situation. Meanwhile, at the time of this writing, the post is still up, and Twitter's general counsel has not responded to a request for comment on the matter.
[Image via Shutterstock]
Have a tip we should know? [email protected]