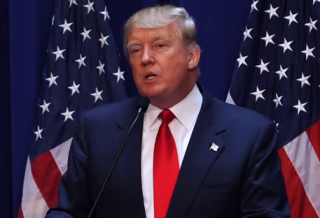 Donald Trump's attorneys are vigorously fighting an attempt by the media to get videotaped depositions of him from the Trump University case released to the public.  His attorneys argue that, under the federal rules, the judge should keep the tapes secret (or under protective order) to protect Trump "from annoyance, embarrassment, oppression or undue burden or expense." Trump's attorneys, Daniel Petrocelli and Jill Martin, argue that this is a private legal dispute and the videos should not be released "solely for the media or entertainment." While some of the transcripts in this case have been released, the public has not seen the full videotaped depositions. The plaintiff's attorneys claim that Trump's demeanor in the videos is an essential part of the case.
As we reported earlier, all the major networks and several newspapers filed a motion to intervene in the case, in order to gain access to the videotaped depositions. As part of a class action fraud lawsuit, former Trump University students sued the school, and the presumptive Republican Presidential nominee himself. The plaintiffs' attorneys deposed Trump on two occasions in December and January. Both of those depositions were apparently videotaped.  Trump was required, under oath, to answer truthfully questions about how the school was run. The media attorneys contend that the depositions should be released as a matter of public interest.
Trump's attorneys disagree. They also oppose the release because the tapes could "taint" a potential jury, and could be used by the media and others to 'harass'  Trump in the presidential election season.
Trump's attorneys write:
As many courts have recognized, "[v]ideotapes are subject to a higher degree of potential abuse than transcripts. They can be cut and spliced and used as 'soundbites' on the evening news or sports show." And unlike in other cases where it was unclear that "out of context snippets" would be broadcast because of the "media frenzy" around the case had died down, the "media frenzy" surrounding this case is certain to continue through election.
Trump's attorneys are requesting a protective order be modified to 1) prohibit the filing of any videotaped depositions unless under seal and 2) to bar the dissemination of any videotaped depositions. LawNewz.com is following this case closely and will update when the judge makes a decision. A hearing is expected in June.
Here is the filing by Trump's attorneys:
Have a tip we should know? [email protected]
Rachel Stockman - President / On Air Host