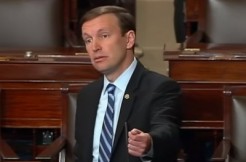 Senate Democrats have ended a nearly 15-hour filibuster, and there will likely be a vote on two gun control amendments on Thursday.
"We've gotten to a place where we're going to get votes on these important amendments," Sen. Chris Murphy (D-Conn) said early Thursday, according to Politico. "What would've been unacceptable is to spend this entire week on legislative business that was irrelevant to the epidemic of gun violence that has been made more real than ever."
Murphy and several other Dems took over the Senate floor Wednesday morning, trying to initiate a vote on gun control proposals. One made by Murphy, Sen. Cory Booker (D-New Jersey), and Sen. Chuck Schumer (D-New York) would require background checks at gun shows and the Internet. The other, from Sen. Dianne Feinstein (D-California), gives power to the Attorney General to stop suspected terrorists from getting firearms.
This fight comes shortly after the biggest mass shooting in American history. Omar Mateen killed 49 and wounded 53 people at a gay nightclub in Orlando, FL on Sunday. He was armed with an AR-15-style semi-automatic rifle, and a handgun. In a 911 call, he pledged his allegiance to ISIS. Also, the FBI investigated him for terror links in 2013 and 2014, but he was cleared.
If the Democrats succeed, the amendments would become part of the 2017 Commerce, Justice, Science Appropriations Bill. That's "if." Some Republicans are suggesting compromises, but those aren't gaining much traction across the aisle.
Sen. Pat Toomey (R-Pennsylvania) has criticized the Democrats' amendments, saying these fell short of due process standards. Instead, he wants to give the Foreign Intelligence Surveillance Court the power to second-guess the Attorney General.
On Wednesday, Feinstein told reporters she doubted a compromise would work, at least with Texas Senator John Cornyn.
"I don't think that's gonna work out," Feinstein said, according to Politico.
"If an investigation uncovers evidence of terrorist activity or involvement, the government should be allowed to immediately go to court, block the sale, and arrest the terrorist," said Chris Cox, executive director of the NRA's Institute for Legislative Action, according to Politico. "At the same time, due process protections should be put in place that allow law-abiding Americans who are wrongly put on a watch list to be removed."
–
Follow Alberto Luperon on Twitter (@Alberto Luperon)
Have a tip we should know? [email protected]