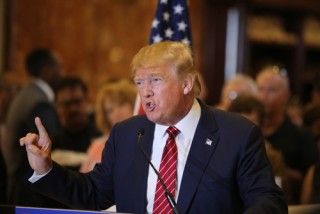 Reports are rolling in that Trump University students gave their instructors positive reviews under duress, according to The New York Times. One instructor stood in front of a participant, waiting for a good evaluation, and another asked his class for high scores, telling him that Donald Trump might not ask him back otherwise.
When John Brown, a former Trump student, gave a negative review, staff members called him repeatedly, asking him to raise the score, and eventually talked him into changing it. He told the Times he was "tired of the continuing phone calls."
In the wake of multiple lawsuits against Trump University that have been fodder for his political opponents, Trump has cited the reviews as positive reinforcement. "Beautiful statements," he said, describing the evaluations.
The Times reported that Trump University employees pressured students to give good reviews, told them to fill them out in order to get their certificates of graduation, and did not institute practices to make sure the evaluations were completed objectively or anonymously. One student said his instructor told him "I won't leave until you give me all 5s," referring to the highest possible score.
"It's absolutely a con," said Robert Guillo, a past participant who gave an insincere positive review. "The role of the evaluations were a defense against any legal actions. They anticipated those actions."
Trump attorney Daniel Petrocelli said participants "were not coerced" into giving high ratings. "They gave overwhelmingly positive reviews because they were being honest with their assessment." At least one student, Amy Hinderer, agrees. "Every rating I gave my mentor was always positive," she said. "And I still agree with what I wrote to this day."
One such mentor, Tad Lignell, claims that some of his students went on to financial success due to his lessons. He does, however, admit that the evaluation process may have been uncomfortable. Lignell said he regularly asked students to fill out evaluations in front of him, while out at a restaurant or coffee shop. In that situation, he said, the students still felt that they needed him. "I want this guy to be my friend, I need his help," he imagined they thought at the time.
Lignell claims that Trump University has not paid him for several students, and that Trump owes him $50,000 for his services. Trump University's attorney did not comment on this.
[h/t NY Times, image via Shutterstock]
Have a tip we should know? [email protected]