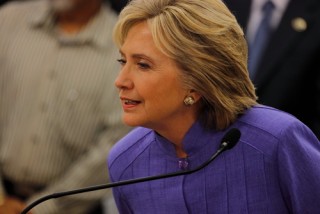 An intelligence source close to the FBI investigation into Clinton's private unsecured email server told Fox News that  former IT specialist Bryan Pagliano's has become an important source for investigators. Last week, it was reported that Pagliano, who helped set-up and maintain Clinton's private server, struck an immunity deal with the U.S. Department of Justice. For the first time, we are getting details about what his testimony to investigators might entail.
The source who is not authorized to speak on the record told Fox's Catherine Herridge that the information is helping investigators ' knit together the emails with other evidence.' What is particularly interesting is that investigators are using that testimony as well as those famous photographs of Clinton using her blackberry on the road as part of their investigation. This could be further indication that the FBI is zeroing into Clinton's official conduct as Secretary of State as it relates to potentially classified emails.
Earlier this week, Clinton scoffed off a question by debate moderator Jorge Ramos from Univision about whether she would quit the race if indicted.
"Oh, for goodness, it's not going to happen. I'm not even answering that question," Clinton said during the CNN debate. As for Pagliano, Clinton continues to maintain she is pleased he is cooperating with investigators "This is a security review, I am delighted he has agreed to cooperate as everyone else had," Clinton said on CBS this morning. We reported last week that the immunity deal with Pagliano was a significant step in the investigation.
"Giving immunity is significant. First, it confirms in my view that there is criminal exposure for this witness and by extension Mrs. Clinton. Either the DOJ has advised the witness he is a target or subject of a criminal investigation, or his attorney has independently concluded from his interactions with the witness there is criminal exposure," Bill Thomas, a former federal prosecutor told LawNewz.com in an email.
Here is video from Fox's report:
Have a tip we should know? [email protected]
Rachel Stockman - President / On Air Host