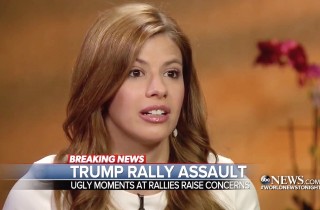 A reporter has filed a complaint with the Jupiter, Fl. police, against Donald Trump's campaign manager, according to the Independent Journal, who cited sources familiar with the events. Breitbart's Michelle Fields is alleging that Corey Lewandowski grabbed her arm when she was asking Trump a question at a press event on Tuesday. Fields filed the police report three days later.
Lewandowski went on Twitter and vehemently denied the allegations.
@MichelleFields you are totally delusional. I never touched you. As a matter of fact, I have never even met you.

— Corey Lewandowski (@CLewandowski_) March 11, 2016
Trump himself denied everything after Thursday night's debate.
Trump denies alleged assault by @CLewandowski_ pic.twitter.com/UNQuW2mSaB

— Independent Journal (@Independent_Pol) March 11, 2016
In response to the denials, Fields also took to Twitter, posting a picture of bruises.
I guess these just magically appeared on me @CLewandowski_ @realDonaldTrump. So weird. pic.twitter.com/oD8c4D7tw3

— Michelle Fields (@MichelleFields) March 10, 2016
LawNewz.com has contacted the Jupiter police for confirmation and is awaiting a response.
UPDATE 3/11/16 12:13pm: The Jupiter Police Department has issued a press release indicating that they are investigating a misdemeanor battery that took place at Trump National on Tuesday. They say the report was made on Friday morning. Police will provide additional details once the case has concluded.
Misdemeanor battery, according to Florida statute, is when a person intentionally touches or strikes another person against that person's will.
Have a tip we should know? [email protected]