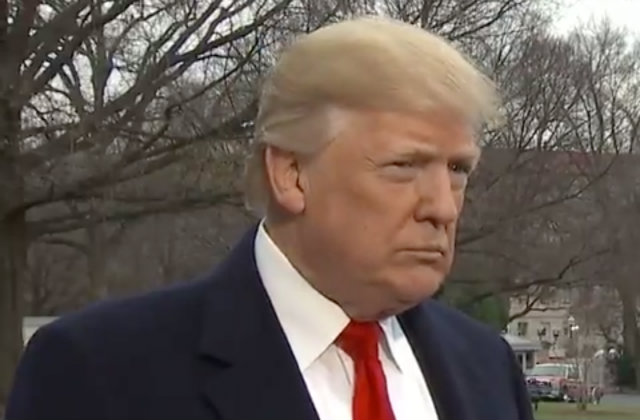 President Donald Trump's legal team is ready to attack former National Security Adviser and campaign surrogate Michael Flynn if he accuses the president or senior aides of wrongdoing in Robert Mueller's Russia probe, according to a WaPo report.
"He's said it himself," a source reportedly said under condition of anonymity. "He's a liar." This is from one of the people developing the reported attack plan. Two other people "familiar with the strategy" discussed it with the outlet.
Flynn pleaded guilty in November to lying to the FBI about his conversations with the Russian ambassador during the presidential transition. He is now cooperating with the special counsel's office, which is investigating Moscow interference in the 2016 election. It is often suggested that he could deliver important information that could help Mueller's office determine whether the Trump campaign had illegal ties to Russia's efforts.
This is all about waiting for the proverbial other shoe. The WaPo story seems to check out, however. After the plea deal was announced, Trump lawyer Ty Cobb attacked Flynn as a liar, and highlighted his work in the Obama administration.
"The false statements involved mirror the false statements to White House officials which resulted in his resignation in February of this year," Cobb wrote.
Flynn was one of Trump's most visible, and passionate boosters during the campaign.
The report comes a day after Flynn's brother Joseph Flynn took cues from recent anti-Mueller sentiment among pro-Trump pundits, and demanded that the president issue a pardon.
"About time you pardoned General Flynn who has taken the biggest fall for you given the illegitimacy of his confessed crime in the wake of all this corruption," he wrote in a now-deleted Tweet, and then replaced that with this:
Mr. President, I personally believe that a pardon is due to General Flynn, given the apparent and obvious illegitimacy of the manner in which the so called "crimes"he plead guilty to were extracted from him. I ask for quick action on this. Thank you and keep up the good work!

— Joseph J. Flynn (@JosephJFlynn1) December 27, 2017
Trump hedged his words on whether he'd pardon Michael Flynn.
"I don't want to talk about pardons with Michael Flynn yet, we'll see what happens," he told reporters December 15, tying in his persistent attacks on officials in the DOJ and FBI. "I can say this, when you look at what's going on with the FBI and the Justice Department, people are very, very angry."
[Screengrab via ABC News]
Have a tip we should know? [email protected]