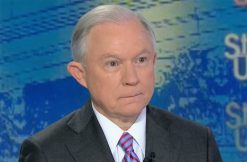 Sen. Jeff Sessions (R-Alabama) had his confirmation hearing for U.S. Attorney General this week, and as expected, a lot of attention was given to his alleged racism. What's curious, though, is how his supporters are backing him: by highlighting a case that might signal his weakness as a candidate rather than his strengths.
On Wednesday, Vox reporter Jeff Stein got his hands on a dossier that the Trump team passed out. It boasted Sessions' accomplishments, as one would expect, but one entry stuck out.
Trump team at the Sessions hearing just passed out a dossier citing an article about "how black Democrats stole votes" pic.twitter.com/oOOA3cIJbk

— Jeff Stein (@JStein_Vox) January 11, 2017
They're referencing a Conservative Review article that argued Sessions, as the title said, did his best to fight voter fraud when he was Alabama's Attorney General.
Black voters and incumbent black officials reported that voters were receiving absentee ballots they had never requested. Moreover, he testified that local candidate Albert Turner was illegally picking up absentee ballots from voters.

A handwriting expert concluded that Turner had written in his own name on some of the absentee ballots. Other black voters had gone to the polls only to be told that someone had already voted in their names by absentee ballot.
This accusation didn't stick, though.
Sure, Turner (an adviser to Martin Luther King Jr.), his wife, and a second man were charged with trying to rig a Sept. 1984 primary election—Sessions had two assistant prosecutors handle the case. But as USA Today reported in November, 2016, a Judge tossed out over half the charges, and a jury acquitted them of the rest.
"I thought that the prosecution was unwarranted and had no merit," Robert Turner, Albert's brother, told the outlet. "I thought it was deliberately done to dissuade black people from voting. I don't think he did it for a just cause."
We've reached out to the Trump spokeswoman Hope Hicks for comment, to learn more about the intent behind the dossier, and see if they disagree with the verdict in the 1984 case.
President-elect's nomination of Sessions as the new AG was met with controversy the moment it was announced. Critics mostly pointed out years-old allegations of anti-black racism, and are worried that he won't take civil rights cases seriously.
For example, back in the 1980s, he got nominated for federal judge position, and he said that the NAACP and ACLU were "un-American" because they tried "forced civil rights down the throats of people." Plus, another attorney, who is black, also accused him of calling him "boy." In any case, Sessions denied allegations of racism at Monday's confirmation hearing.
[Screengrab via CNN]
Have a tip we should know? [email protected]