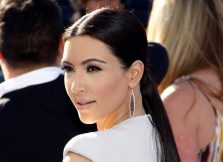 Kim Kardashian must be sighing a breath of relief.  Not only have 17 suspects been arrested by the French authorities in relation to the robbery which took place in October during Paris Fashion Week, but now, if a new TMZ report is accurate,  she may not have to travel for the upcoming trial nor ever see her assailants face-to-face.  Kim was allegedly gagged, tied up and held at gunpoint in the apartment she was renting during her stay, while the suspects took off with approximately $9 million dollars worth of her jewelry.
As TMZ has reported, under French law victims are given the latitude to testify against their perpetrators remotely, even from far distances.  Judges will travel to the crime victims to administer interviews and collect the necessary information.  And unlike U.S. jurisprudence, French criminal defendants do not have the right to cross-examine their accusers, thus allowing for the distant and private meeting between the Judge and victim.
It seems Kim's case might fit the criteria for the Judge to travel to her and so in typical diva fashion, Kim won't have to lift a finger.
[image via shutterstock]
Have a tip we should know? [email protected]