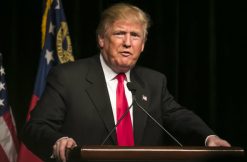 President-elect Donald Trump said on Saturday that he settled three contentious fraud lawsuits for $25 million because he just didn't have the time anymore. He claims he would have won had these gone to trial.
I settled the Trump University lawsuit for a small fraction of the potential award because as President I have to focus on our country.

— Donald J. Trump (@realDonaldTrump) November 19, 2016
The ONLY bad thing about winning the Presidency is that I did not have the time to go through a long but winning trial on Trump U. Too bad!

— Donald J. Trump (@realDonaldTrump) November 19, 2016
Plaintiffs claimed that Trump University, which went defunct in 2010, was a scam. The federal trial in one of the lawsuits, presided over by Judge Gonalzo Curiel, was slated to begin on Nov. 28. As recently as Nov. 10, Trump attorney Daniel Petrocelli asked for a delay until early 2017.
This is the end of a very heated process. Trump complained in February that Curiel, an American-born man of Mexican descent, was biased against him because of the then-candidate's controversial immigration policy.
These Saturday tweets may signal the probability of other threatened lawsuits, this time with the President-elect as a plaintiff. During an October 22nd rally, he said that once the election was over, he'd sue the women who've accused him of sexual assault. He claimed they all lied. LawNewz.com founder Dan Abrams said at the time that this was just unlikely in part since it would be a lot to juggle.
"Going through a lawsuit is very time consuming," Abrams told Good Morning America about the then-candidate's threat. "You have to sit through depositions, and hours, and hours, and hours. And he's talking about suing 10, 11, 12 people? He's going to go through these depositions when he's President of the United States?"
We've reached out to a Trump lawyer for comment.
[image via Action Sports Photography and Shutterstock]
Have a tip we should know? [email protected]