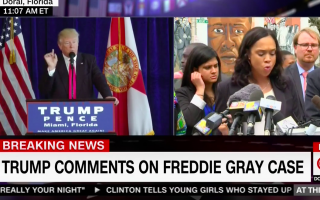 During a morning news conference, Donald Trump came out swinging against the prosecutor who charged six officers involved in Freddie Gray's death. Gray suffered injuries while in a Baltimore Police transport van before falling into a coma and dying.
On Wednesday, in a surprise move, the Baltimore State's Attorney's Office announced that all of the remaining charges against the police officers would be dropped. This came after three officers were acquitted and a fourth officer's trial ended in hung jury last year.  Prosecutor Marilyn Mosby has come under fire for her handling of the cases, with one law professor even filing complaints demanding her disbarment.
When asked at a news conference Wednesday about the case, Trump said, "I think she ought to prosecute herself … it was disgraceful."
He even went on to applaud the officers involved.
"I give a lot of credit and respect to those police officers who could have made a deal," he said. "Don't forget she prosecuted what she thought was her best case first. She should prosecute herself. She should be held accountable."
Several officers involved in the case have sued Mosby alleging false arrest, false imprisonment and defamation.
Have a tip we should know? [email protected]
Rachel Stockman - President / On Air Host