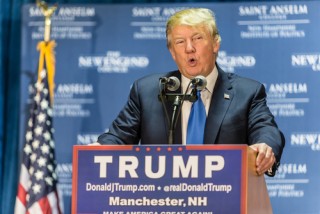 If campaign contributions are any indication of broader support, members of the military are lining up behind Democrats in the presidential race, with Sen. Bernie Sanders (D-Vt.) in the lead.
Individuals listing their employer as the U.S. Department of Defense or one of the branches of the military have given $374,600 to Sanders, more than to any other presidential candidate. Hillary Clinton comes in second behind her Democratic rival at $247,649, with Sen. Ted Cruz (R-Texas) not far behind and other failed Republican candidates following. Military support for the GOP's last man standing, Donald Trump, has been in comparatively short supply — just $15,502. The figures include gifts from those who identified themselves as retired servicemembers.
While it may seem surprising that someone who applied for conscientious objector status to avoid serving in Vietnam would be the top choice of military donors, the support for Sanders can be partially explained by demographics,
"It makes sense, if you look at the demographics of the military, that they kind of align with the demographics of those supporting Bernie Sanders," said Amy Bailey, an assistant professor at the University of Illinois-Chicago who focuses on military sociology.
The military skews young, with 70 percent of enlisted members under 30, and most come from working class backgrounds, she said. About 35 percent identify as people of color.
A key sticking point for many service members who support Sanders over Clinton is her 2002 vote in the Senate for the war in Iraq, which Sanders voted against, said Tyson Manker, national director of the grassroots organization Veterans for Bernie.
"The people that are going to be put into these life and death situations to fight an enemy, we want to know that it's not a waste," Manker said. "Bernie Sanders has shown the judgment and frankly, we trust him."
Service members have been turning their support to Democrats in increasing numbers since the start of the war. In 2002, the last full election cycle before the war began, 23 percent of military members' campaign contributions went to Democrats, according to previous research by the Center for Responsive Politics. That number has increased in every election since and now sits at 52 percent.
In light of this trend, particularly the sizable military support for President Barack Obama in 2012, the current backing of Sanders and Clinton is not especially startling, said Phillip Carter, director of the Military, Veterans, and Society Program at the Center for a New American Security.
For many servicemembers who would typically vote Republican, the prospect of Trump as commander-in-chief raises some concerns, and that's reflected in their campaign contributions. Trump is still receiving less money than candidates who withdrew from the race months ago, such as Ben Carson and Rand Paul.
The questions of what a Trump presidency would mean for overseas commitments and current alliances are serious ones for many of those in the armed services as well as retirees and DoD civilian employees, Carter said. Though Trump has not consistently offered specific foreign policy plans, he has discussed pulling U.S. troops out of NATO and suggested that nuclear weapons could be used to target terrorists in Europe.
And servicemembers' concerns about Trump go beyond potential foreign policy decisions. Events such as the recent questions about the presumptive GOP nominee's donations to veterans groups have hurt his standing with them, and many of his comments about the military — including calling Sen. John McCain (R-Ariz.) a "loser" for being a prisoner of war and Trump's claim that attending a military high school was equivalent to being "in the military in the true sense" — have also rubbed them the wrong way.
"Little gestures matter," Carter said.
Emma Baccellieri is a reporter with OpenSecrets.org, a non partisan and nonprofit organization that tracks money and politics. Senior researcher Doug Weber contributed to this post. Figures cited include donations of more than $200.
Have a tip we should know? [email protected]