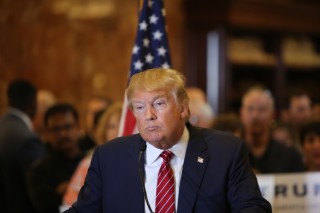 This weekend, The New York Times obtained a portion of  Donald Trump's 1995 income tax returns that seem to suggest that he could have avoided paying federal income taxes for the last 18 years. The reason? Trump reported a $916 million loss back then, which could have helped him legally avoid paying taxes for years.  The story behind how the Times got a hold of the returns is even more mysterious. The three pages were apparently sent to Times reporter Susanne Craig anonymously. Even stranger, the document had a return address of Trump Tower.  Trump's attorney immediately sent a letter to the editors of the Times arguing that publishing the records is "illegal" because Mr. Trump has not authorized the disclosure of any of his tax returns." So, is that true? Is it illegal for The Times to publish his returns? Technically, it could be. The Times will likely assert a First Amendment defense, and they may have a very strong defense.  However, there is one provision in federal law that will make this difficult for the newspaper.
Federal law does make it illegal for "any person" to publish an unauthorized tax return:
It shall be unlawful for any person to whom any return or return information (as defined in section 6103(b)) is disclosed in a manner unauthorized by this title thereafter willfully to print or publish in any manner not provided by law any such return or return information. Any violation of this paragraph shall be a felony punishable by a fine in any amount not exceeding $5,000, or imprisonment of not more than 5 years, or both, together with the costs of prosecution
Dean Baquet, executive editor of The New York Times, even said during a September panel discussion at Harvard that he would risk jail time in order to print Trump's taxes, as it was a matter of "public concern."
In addition, whoever sent the returns to the newspaper could also be in some legal trouble.
"If released from the files of the IRS or a state tax agency by a government employee, this would be a felony," Robert
Kovacev, a tax attorney with Steptoe & Johnson explained to LawNewz.com.  According to 26 U.S. Code 6103, it is illegal for any officer of the government to release a person's tax information without authorization. There is a provision in the law that allows the government to disclose the taxes with the consent or authorization of the taxpayer. Obviously, in this case, we know Trump didn't give authorization. However, we don't know for sure where the tax returns came from.
There is another option. The taxes could have been released by one of Trump's former accountants or tax attorneys. Maybe this person had a grudge against Trump or wanted the public to see the truth.  If that was the case, the accountant or attorney could be in a boat load of professional trouble for what he/she did. Releasing tax information would be an egregious breach of attorney/client coverage. And, if it was in fact, one of Trump's old attorneys he/she could face professional sanctions.
As for any legal claim against The New York Times, media organizations, for the most part, are allowed to print information they obtained so long as they didn't participate in anything illegal. In Bartnicki v. Vopper, the Supreme Court addressed this very issue. The Justices were assessing whether a radio personality could be held liable for playing illegally intercepted phone calls on the radio. The Court held the First Amendment protected the disclosure of the intercepted communications by parties who didn't participate in the illegal act.
"In this case, privacy concerns give way when balanced against the interest in publishing matters of public importance," wrote Justice John Paul Stevens. "[A] stranger's illegal conduct does not suffice to remove the First Amendment shield from speech about a matter of public concern." However, the rules aren't absolute. The tax case is a bit different because there is a specific federal law that prevents publishing tax information.
"The courts could say, if the public thinks the tax returns are so important, let it demand that the candidate authorize the IRS to release them on pain of losing votes," Jonathan Zittrain, a professor at Harvard Law School told The Washington Post.  The Times is likely banking on the law being held unconstitutional.
"Those are cases that have held unconstitutional, on First Amendment grounds, statutes such as the following: barring publication of charges before a judicial panel passing on the alleged  misbehavior of judges; barring publication of the names of juveniles before juvenile courts (I argued those two cases in the Supreme Court); and barring publication of the names of rape victims. None of those cases laid down absolute rules," First Amendment expert Floyd Abrams told LawNewz.com in an email. "But taken together, all the cases make it extremely unlikely that the Times could constitutionally be held liable for publishing such a newsworthy story, a month before a presidential election, about a candidate for President."
So the question remains: could The Times be in trouble for disclosing them under federal law? We shall see. It could be a long constitutional battle.
Update: This article has been updated to include the federal law which makes disclosure of taxes a crime, and more quotes from experts including Floyd Abrams. We also removed the line that indicated prior restraint might be a factor in a legal dispute. As The Times has already published the taxes, there's nothing to restrain anymore. However, as indicated above, there are many other constitutional questions that could factor in. 
This is an opinion piece. The views expressed in this article are those of just the author.
Rachel Stockman - Editor in Chief / On Air Host