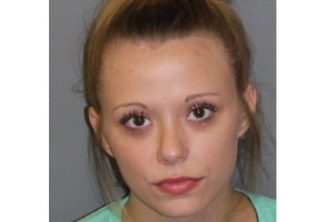 Jail or treatment? For years, that's been the debate when it comes to substance abusers. Most recently, it's been an issue for Alexandra Laird, a pregnant 21-year-old Alabama woman who was ordered to stay in jail until she gave birth. Laird had a child last year who tested positive for amphetamines and opioids. Laird was out on bond for a chemical endangerment charge when she tested positive for heroin while pregnant with another child, AL.com reported, and in September, Judge David Hobdy ordered her to jail for the rest of her pregnancy. Judge Hobdy said, "This court is very concerned about the welfare of the unborn child."
But what about the mother, who clearly has a problem? Can the jail system properly manage her health and the health of the unborn child the judge is aiming to protect? Doctors at UAB Hospital don't think so, and they have refused to turn her over. Laird was in jail, but fell and went to the hospital. Physicians learned that she hadn't been getting necessary treatment to prevent drug withdrawal, which can be harmful to a fetus. Dr. Peter Lane, director of UAB's Addiction Recovery Program, wrote in a letter to Judge Hobdy, "Opiate withdrawal in pregnancy can affect fetal blood flow causing harm during periods of fetal development."
Laird's charge, chemical endangerment, originated in Alabama in 2006, in order to prosecute people who exposed children to dangers related to home meth labs. Later, it started being used against women who used drugs while pregnant. Laird's situation is particularly noteworthy because she hasn't been convicted yet, but is being ordered to months of incarceration.
District Attorney Bill Veitch said that jail is necessary, because Laird would be able to leave a treatment facility if she wanted to, and could then get more drugs. "Couldn't she just walk out the door?" he asked, according to AL.com.
Medical professionals say that therapy and counseling are necessary, in addition to medication. Dr. Michael Chandler, the chief medical officer with the Jefferson County Sheriff's Office, said that the jail in Bessemer, Alabama, where Laird had been, has social workers and psychiatrists on staff, in addition to nurses and doctors. While it may not be as pleasant of an environment, Dr. Chandler insists that it is sufficient. "The mother might not be as happy," he told Al.com. "But the baby doesn't know the mother's in jail."
In the meantime, doctors at the hospital are not discharging Laird, and may keep her until after she gives birth. Once she is released, however, she would have to go back to jail.
Have a tip we should know? [email protected]