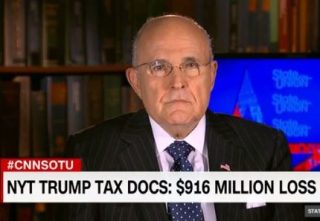 In an interview with CNN's Jake Tapper on 'State of the Union' Sunday morning, former New York City Mayor and Donald Trump adviser Rudy Giuliani defended Trump after The New York Times reported that Trump may have legally avoided paying federal income taxes for nearly two decades.
Giuliani called Trump a genius for being able to get around paying income taxes, which led Tapper to question the former mayor's own practices. "You're a successful businessman, do you pay federal income taxes?" he asked. Tapper's reaction to Giuliani's response is priceless.
"That's between me and my accountant and the IRS," Giuliani shot back, defensively, leaving Tapper momentarily stunned.
But besides defending Trump and anyone else for finding loopholes in the system to avoid taxes, Giuliani made a bold claim that Trump was legally obligated to not pay taxes, or else he could be sued. While it's true that people running businesses have fiduciary duties to act in the business's best interest, the tax returns that the Times reported on were not for any of Trump's businesses. They were the personal taxes of Trump and his then-wife Marla Maples.
Have a tip we should know? [email protected]