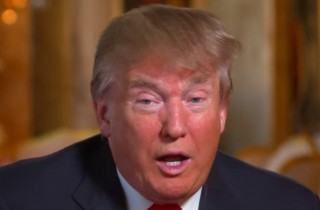 After his controversial comments on abortion sparked outrage from Republicans, Democrats and the media alike, Donald Trump issued a statement that appears to walk back the draconian stance he offered on abortion during a taping of an MSNBC town hall to be aired Wednesday evening. After being pressed by host Chris Matthews regarding punishing women who would break any theoretical ban on abortion, Trump said the "answer is that there has to be some form of punishment, yeah."
A few hours later Mr. Trump said the following in a statement released by his campaign.
"If Congress were to pass legislation making abortion illegal and the federal courts upheld this legislation, or any state were permitted to ban abortion under state and federal law, the doctor or any other person performing this illegal act upon a woman would be held legally responsible, not the woman," he said. "The woman is a victim in this case as is the life in her womb. My position has not changed—like Ronald Reagan, I am pro-life with exceptions."
Chris Matthew's one-on-one interview with Donald Trump will air tonight at 8 p.m. on MSNBC.
[h/t NBCNews]
Have a tip we should know? [email protected]