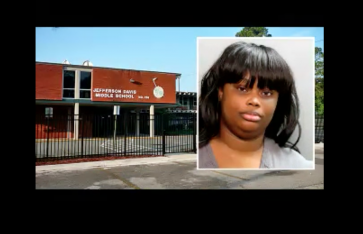 A substitute teacher at Jefferson Davis Middle School near Jacksonville, FL was arrested on Tuesday after authorities say she threatened at least one student with a stun gun.
According to the police report, the substitute teacher, identified as Kiara Ansley, 26, was arrested and charged with possession of a weapon on school grounds after several students reported seeing a stun gun and hearing the "sound of a taser."
Jefferson Davis Middle School principal Nidia Ashby sent a voicemail to parents and guardians about the incident, saying the school immediately investigated the matter and removed the teacher from the classroom.
"We take any threats to student safety seriously and are very thankful that no students were harmed during this incident," a district spokesman told reporters.
The district also contacted the substitute teacher vendor, Kelly Services, to inform them about the incident.  Kelly Services released the following statement:
"Kelly Services is always concerned about reports of inappropriate behavior by one of our employees as the safety of students is our first priority. We are cooperating fully with the investigation of this matter. However, due to employment regulations, we do not discuss details of employee matters publicly."
Ansley was reportedly released from jail on Wednesday.  No word on when she is scheduled to appear in court.
WATCH:
[h/t CBS 47; image via screengrab]
Have a tip we should know? [email protected]