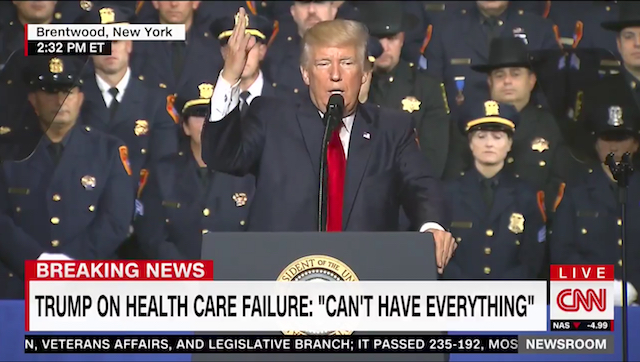 President Donald Trump raised the eyebrows of many–and the ire of civil rights organizations–yesterday when he called for police officers to rough up people under arrest in a speech addressed to Suffolk County law enforcement.
Tellingly, just one day prior, the FBI busted Suffolk County Police Officer Christopher McCoy for allegedly raping a woman who he had arrested for outstanding traffic violations on March 16.
The FBI report notes:
"Jane Doe was transported to the First Precinct in Wyandanch [Suffolk County]. During arrest processing, while McCoy and Jane Doe were alone in the precinct's juvenile room, McCoy forced Jane Doe to perform oral sex."
After allegedly raping the unnamed woman, McCoy sent her a string of unsolicited text messages, one of which read: "I have to return the favor."
The FBI is currently seeking additional victims who may have been raped by McCoy, a 10-year veteran of the force.
Assistant Director in Charge William F. Sweeney, Jr. said, in a statement, "This type of behavior is outrageous. It won't be tolerated within our criminal justice system, and those who subject others to such cruel conduct will be swiftly removed from serving in any official capacity."
McCoy has been charged with depriving an arrestee of the right to bodily integrity.
The incident brings Trump's shocking comments into sharp relief. Speaking in front of a large crowd of cheering police whose adulation of the president was clear, Trump said:
"When you see these thugs being thrown into the back of a paddy wagon, you just see them thrown in. Rough. I said, please don't be too nice."
Apparently one Suffolk County cop got the memo in advance.
[image via screengrab]
Follow Colin Kalmbacher on Twitter: @colinkalmbacher
Have a tip we should know? [email protected]