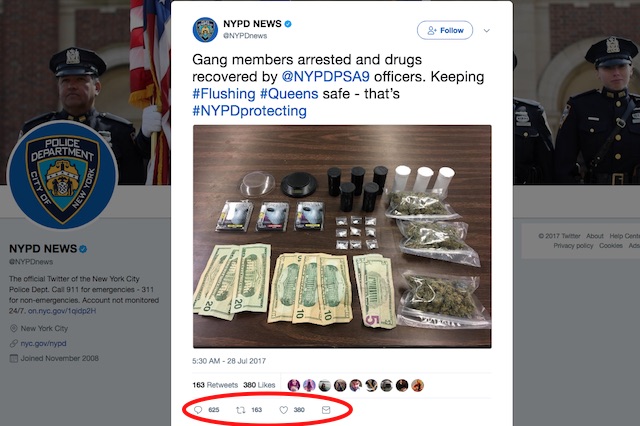 The NYPD learned a lot about Twitter last night.
After tweeting about the arrest of alleged "Gang members" and doing their best impression of The Wire's Ervin Burrell by posting an image showing a very small amount of drugs and exactly $100 in cash, denizens of the micro-blogging site took the New York City Police Department's official account to task for their out-of-all-proportion braggadocio.
Here's the original tweet-cum-cautionary tale for how not to boast online:
Gang members arrested and drugs recovered by @NYPDPSA9 officers. Keeping #Flushing #Queens safe – that's #NYPDprotecting pic.twitter.com/eeKHQnc5UX

— NYPD NEWS (@NYPDnews) July 28, 2017
And here are just some of the dragging responses:
Now that college student doesn't even have the cash to pay the fine.

— Chris Resists (@stokith) July 29, 2017
That's it?! Yikes. Let's not talk about my sock drawer…

— Jesse Ryan (@ImFlyinJryan) July 28, 2017
McDonald's 😂

— Cycling WO Apology❄ (@OCherokee) July 28, 2017
dang y'all finally put caught El Chapo huh. congrats

— shriller than thou (@theshrillest) July 29, 2017
Wow, real bang-up job guys. What's that $100 and maybe three ounces of pot? I'm sure the Sinaloa cartel will be outta business any day now.

— Andrew M (@VomitingBrain1) July 28, 2017
Shook down a real big time *squints at photo* 9 year old who was in his older brothers shoebox 👍

— NBA HOF Kurt Rambis (@Milktoasted) July 28, 2017
Apparently their gang leader was sighted fleeing the scene pic.twitter.com/DDkMYpbRc5

— Glennjamin (@theglennjamin) July 29, 2017
And that's just the start. A cursory glance at the tweet itself shows the NYPD has fallen victim to "the ratio"–-a Twitter phenomenon whereby bad tweets suggest just how soon a user should delete their account based upon the ratio of replies to likes and retweets.
As the ratio here suggests, the NYPD should stop tweeting yesterday.
[image via NYPD/Twitter]
Follow Colin Kalmbacher on Twitter: @colinkalmbacher
Have a tip we should know? [email protected]