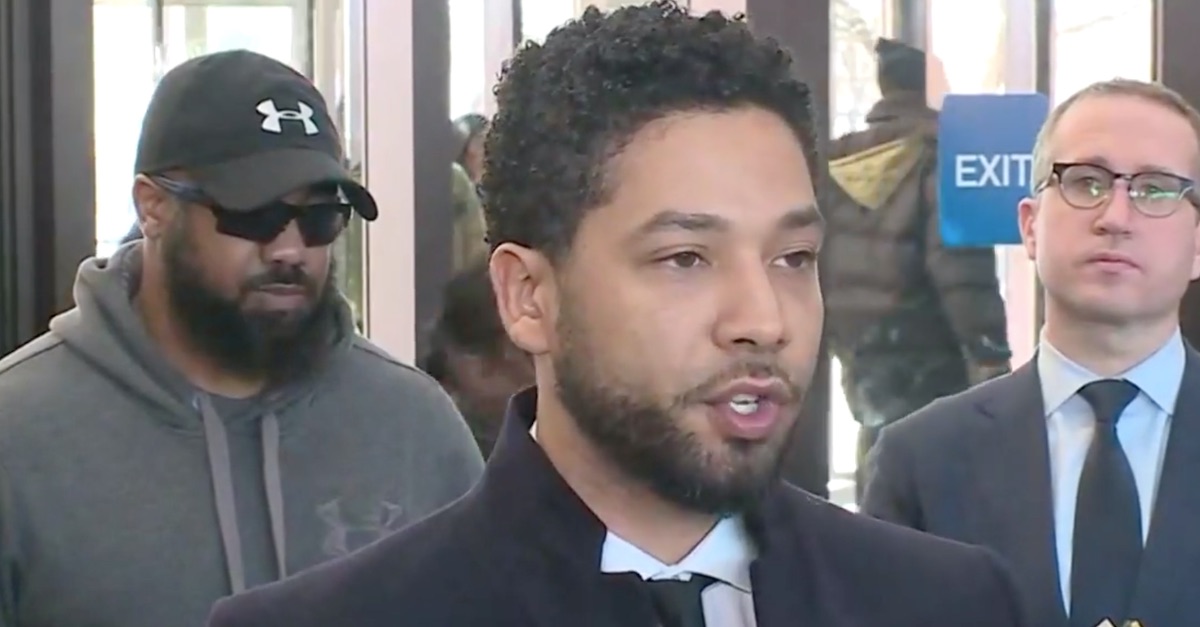 Chicago Mayor Rahm Emanuel promised earlier Thursday that Empire actor Jussie Smollett would be footing the bill for the efforts of Chicago police to investigate the incident Smollett initially reported as a hate crime. By Thursday afternoon, Smollett was given a week by the city to cut a check for $130,106.15.
The fallout from the Tuesday decision by Cook County prosectors to drop 16 felony disorderly conduct charges continues. Smollett agreed to do community service and forfeit $10,000 bond, and that was that.
But the explanation from prosecutors, such as State's Attorney Kim Foxx and her deputy Joseph Magats, wasn't received well. Magats even said he believed that Smollett lied to police about the incident. Chicago Police accused Smollett of paying Abel and Ola Osundairo to stage a hate crime that featured a noose, a bleach-like substance, racist and homophobic slurs, and the phrase "This is MAGA country." It was even alleged that Smollett paid the Osundairo brothers $3,500 by check to stage the attack, possibly because Smollett was unhappy with his salary on Empire. Smollett and his attorneys have denied this, questioned the witnesses' motives and said the check was actually for a training program.
According to ABC News, however, the Chicago Department of Law has sent Smollett's attorneys demanding that $130,000 be paid to the City of Chicago by money order or certified cashier's check within seven days. It seems that Mayor Emanuel was not kidding around.
If Smollett doesn't pay in "timely" manner, the letter reportedly said, Smollett could be prosecuted for making a false statement.
"The City of Chicago and the Chicago Police Department take seriously those who make false statements to the police, thereby diverting resources from other investigations and undermining the criminal justice system," the Chicago Department of Law said.
Emanuel ripped the decision by prosecutors to drop the charges as a "whitewash of justice" multiple times. On Thursday, Emanuel went on WGN Radio and vowed that Smollett would be doing more than community service and forfeiting $10,000 bond.
Host of The Opening Bell Steve Grzanich said that Emanuel, on behalf of the City of Chicago, will be sending a bill to Smollett to cover the cost of extensive investigations. Police not only investigated the alleged hate crime, they also spent time looking for and finding persons of interest, interviewing Smollett, interviewing the Osunadairo brothers, and getting them to flip/admit the attack was staged.
Smollett's legal team, on the other hand, has celebrated an expunged record and said Smollett was a "victim who was vilified."
Foxx controversially announced that "After reviewing all of the facts and circumstances of the case, including Mr. Smollett's volunteer service in the community and agreement to forfeit his bond to the City of Chicago, we believe this outcome is a just disposition and appropriate resolution to this case."
Foxx would say that the Smollett case was treated like "thousands of others with the same level of offense, and the same criminal background." She also attempted to address concerns that Chicago Police wasted a lot of time and resources, the very concerns the Chicago Department of Law expressed above.
"We are grateful for the work that they have done on this case, but this outcome is not an outlier to similarly situated cases. And I think it's really important that we have that understanding, because this was an outcome that was not unexpected," Foxx said. Foxx said a second time the "outcome was not unexpected."
In other related news, President Donald Trump has called for an FBI and DOJ investigation and an Illinois lawmaker is looking to punish shows that hire Smollett in the future.
[Image via Facebook screengrab]
Have a tip we should know? [email protected]