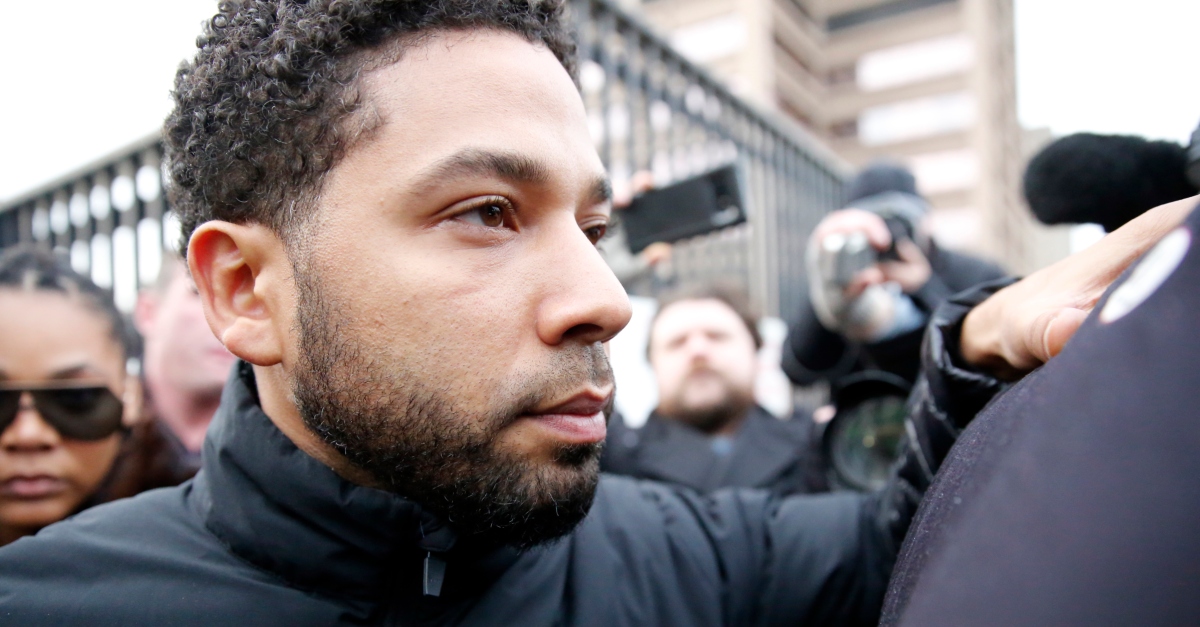 Prosecutors in Cook County, Illinois may have been satisfied with their decision to drop false report charges against Jussie Smollett, but they seem to be the only government officials pleased with the situation. The City of Chicago's Department of Law sent Smollett a letter on Thursday saying that if he doesn't compensate them for the money spent on his case, they may bring a case against him that could cost him much more.
Smollett had been accused of falsely reporting that he was attacked by two men shouting racist and homophobic slurs, as well as the phrase, "This is MAGA country." He claimed his assailants poured a chemical on him and placed a noose on his neck. Police investigated the matter as an assault at first, then discovered evidence that they believe proved the whole thing was a hoax. Two men allegedly admitted to being paid by Smollett to carry out a staged attack. Smollett was indicted on 16 felony counts, only for prosecutors to suddenly dismiss all of them.
Law&Crime previously reported that Chicago Mayor Rahm Emanuel wanted Smollett to reimburse the city for what they spent on his case, and now a copy of the letter obtained by TMZ shows that they could make Smollett pay a whole lot more.
In the letter, the Department of Law didn't dance around the hoax allegation.
"Over two dozen detectives and police officers participated in the investigation, ultimately spending weeks investigating your false claims, including a substantial number of overtime hours," the letter said, pointing out that the resources they expended "could have been used for other investigations." The letter definitively stated, "Ultimately, the Chicago police investigation revealed that you knowingly filed a false police report and had in fact orchestrated your own attack."
The letter said that the investigation cost the city $130,106.15 in overtime hours, and demanded that Smollett pay this amount via check or money order payable to the City of Chicago within seven days.
If Smollett doesn't pay up, they said, a case may be brought against him under an ordinance that prohibits making false statements to the city. The letter said that violations can result in a fine of up to $1,000 on top of as much as three times the amount caused in damages. That means that Smollett could theoretically be made to pay $391,318.45. The city also warned they could seek court costs, attorneys' fees, and collection costs on top of this.
Jussie Smollett Demand Letter by on Scribd
[Image via Nuccio DiNuzzo/Getty Images]
Have a tip we should know? [email protected]