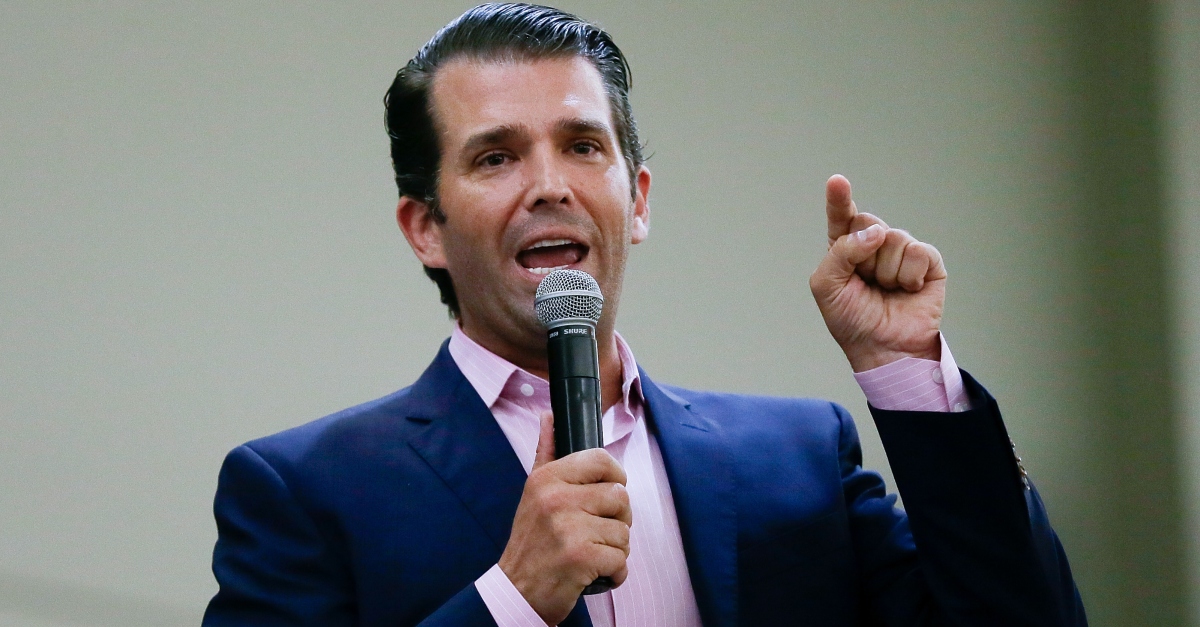 President Donald Trump's former personal attorney and fixer Michael Cohen showed up Wednesday on Capitol Hill with documents related to the hush money payoff of Stormy Daniels.
Law&Crime has obtained two images of checks that Cohen and his legal team say were reimbursements for taking $130,000 out of a home equity line of credit to covertly facilitate the payment. He said that Trump cut the checks from his personal bank account–after he became president–"to reimburse me for the hush money payments I made to cover up his affair with an adult film star and prevent damage to his campaign."
Cohen, among other things, pleaded guilty in the Southern District of New York (SDNY) to committing campaign finance violations, violations that he said Trump "directed." As you can see, this check was cut on Aug. 1, 2017, nearly a year before Trump said he had no knowledge of the payment to Daniels. Trump would also say that he paid Cohen as part of a "retainer" agreement.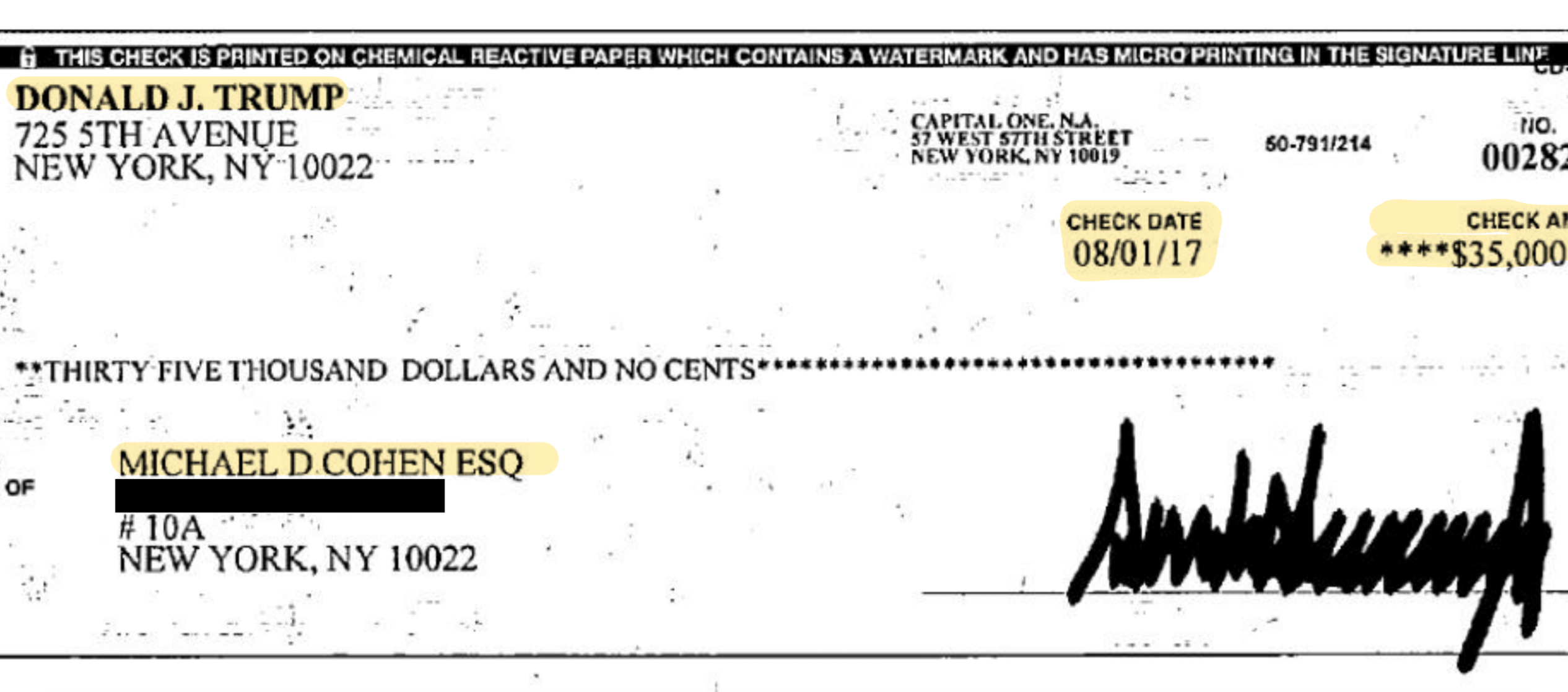 Months before this check, a check in the same amount ($35,000) was signed by two individuals on March 17, 2017.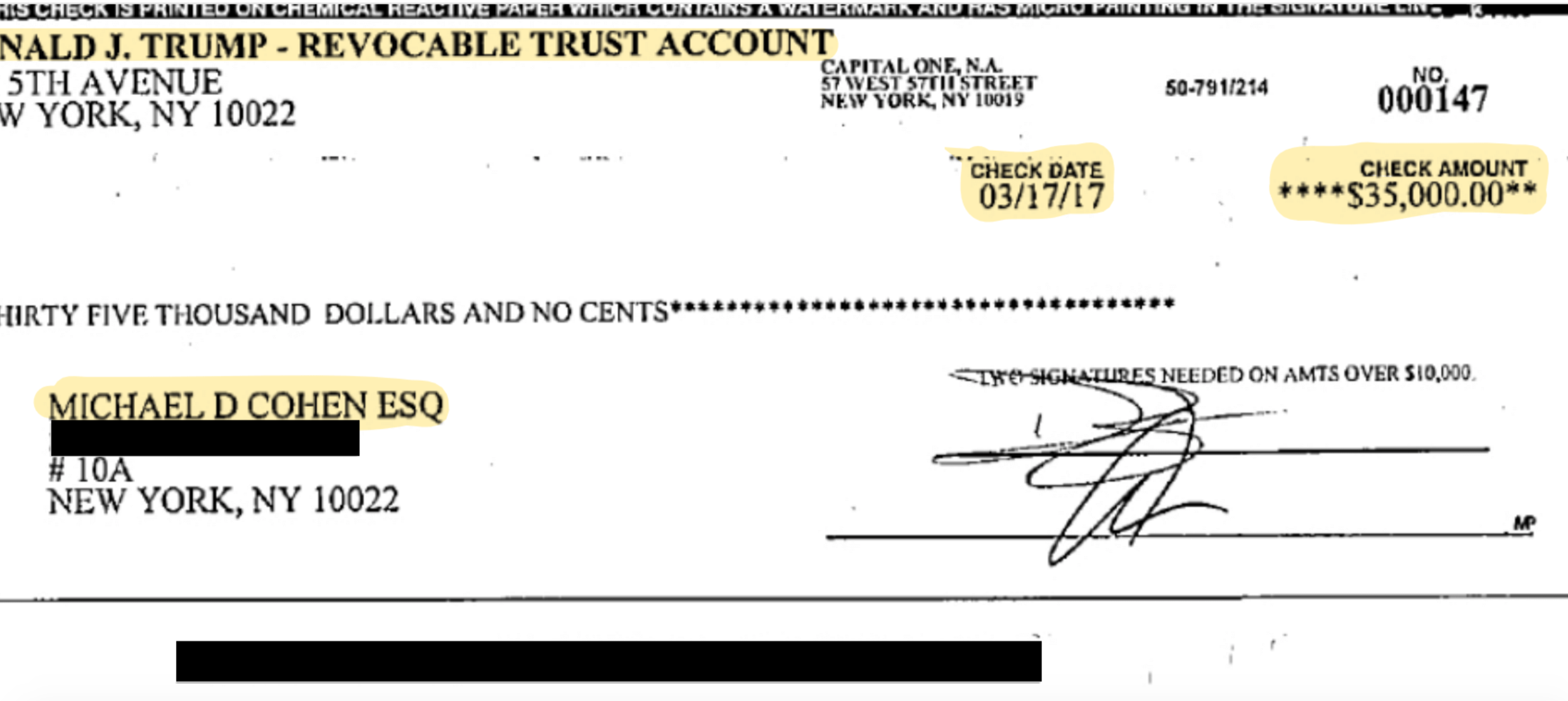 Those two names have been identified by Cohen as Trump Organization CFO Allen Weisselberg and Donald Trump Jr. Weisselberg was previously granted immunity by the SDNY for cooperation in the investigation into the hush payment.
As Law&Crime reported on Monday, it was a distinct possibility that Cohen would name some names this week, particularly "Executive One" or "Executive Two" at the Trump Organization who were allegedly involved in the hush payments to Stormy Daniels.
In sharing this check with these signatures, he appears to have done that.
Attorneys immediately called attention to Trump Jr. being implicated in the hush payment scheme. As Law&Crime has mentioned before in the context of Weisselberg's immunity deal, immunity is not handed out to individuals who have no criminal liability. It stands to reason that if Weisselberg has liability for this, Trump Jr. may too, but there is (to anyone's knowledge) no cooperation or immunity deal in place for Trump Jr.
Law&Crime has reached out to Trump Jr.'s lawyer Alan Futerfas for comment.
[Image via Bob Levey/Getty Images for Left_Right TV]
Have a tip we should know? [email protected]