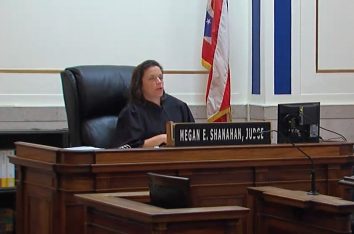 What was supposed to be a brief recess turned into a lengthy delay on Friday morning in the trial of former University of Cincinnati police officer Ray Tensing. Prosecutors charged Tensing with murder over the shooting of motorist Sam DuBose during a traffic stop in July 2015.
Some jurors reportedly refused to return to the courtroom after learning of Judge Megan Shanahan's decision to grant a media request for the release of jury questionnaires. Judge Shanahan agreed to redact jurors names before releasing the questionnaires, but jurors apparently do not want to risk being identified, citing safety concerns.
There was talk of potential of mistrial related to paper's insistence on getting #TensingTrial jury questionnaire & jury not wanting it out

— Jody Barr (@JodyBarrFox19) November 4, 2016
As the delay spilled over into the afternoon, the Cincinnati Enquirer newspaper withdrew its request for the juror questionnaires, seemingly in the hopes of ending the delay.
BREAKING This should end the delay in #TensingTrial (unless another media outlet makes same request?) We're inside courtroom awaiting update https://t.co/2TGbNTwuAk

— Julie Dolan (@JulieKDolan) November 4, 2016
Judge Shanahan returned to the courtroom just before 2:00 p.m. on Friday afternoon and instructed the lawyers in the case to have no contact with the media.  She also instructed the media to not have any contact with attorneys in the case.  She did not provide further explanation for the delay in the case, but she did say court will resume on Monday at 9:00 a.m.
WATCH LIVE when court resumes:
Have a tip we should know? [email protected]