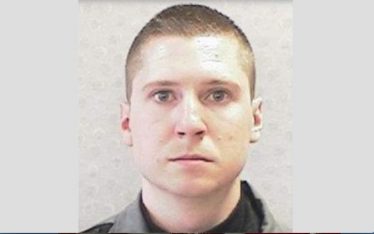 The murder trial of former University of Cincinnati police officer Ray Tensing entered its fourth day on Friday.  Tensing is charged in connection with the shooting death of Sam DuBose during a traffic stop in July 2015.
Early Friday morning, prosecutors showed jurors a picture of a the t-shirt Tensing was wearing under his uniform on the day of the shooting.
#TensingTrial, here is the under shirt #RayTensing was wearing the day of the #SamDuBose shooting. Has confederate flag on it. @WCPO pic.twitter.com/8lRO9jGjHi

— Libby Cunningham (@WCPOLibby) November 4, 2016
The black t-shirt appears to say, "Great Smoky Mountains, 1934" and features a small Confederate flag in the center of the shirt.
Prosecutors did not appear to focus attention on the Confederate flag when the witness analyzed the photo.  However, during the cross-examination of previous witnesses in the case, Tensing's attorney were able to convey to the jury that the police department required officers to wear black undershirts.  The witnesses also said the department did not provide officers with the shirts.
WATCH LIVE:
[image via handout]
Have a tip we should know? [email protected]