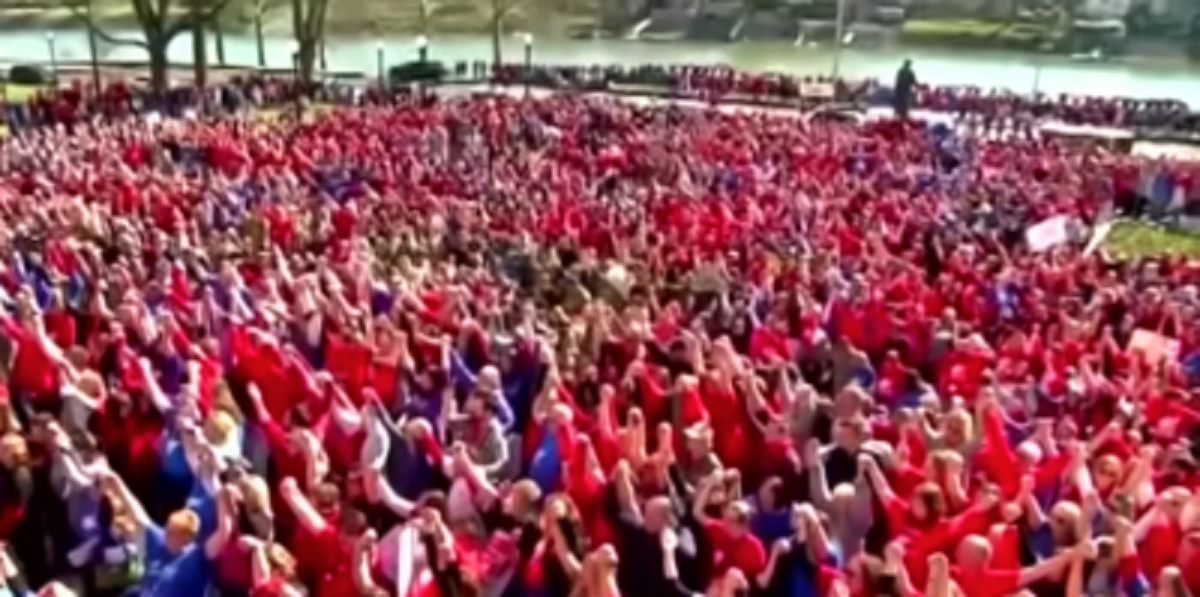 Striking teachers in West Virginia have defied their unions and the state's Republican governor—continuing a statewide school shutdown even after a tentative agreement was reached between lawmakers and union bosses.
At a Tuesday press conference, Governor Jim Justice declared an end to the strike by promising a two percent pay raise for teachers in addition to a three percent pay raise for state employees across the board.
Leaders of the American Federation of Teachers ("AFT"), the West Virginia Education Association ("WVEA") and the West Virginia School Service Personnel Association ("WVSSPA") attending the press conference immediately echoed the governor and signed off on the bargain. Per Justice's pact with state labor officials, Wednesday was to serve as a cooling off period and all 55 of West Virginia's counties were to re-open on Thursday morning.
Multiple media outlets–such as the Wall Street Journal, ABC News, NPR, and CNN–jumped the gun and announced the statewide strike complete.
As it turns out, striking teachers in West Virginia were apparently not consulted by those outlets; the compromise between Justice and union leadership was quickly rejected by rank-and-file union teachers.
One of the state's more aggressive unions, the Industrial Workers of the World-West Virginia ("IWW-WV"), issued a press release castigating AFT, WVEA and WVSSPA leaders and mocking their declining membership. That press release reads, in part:
While leadership has touted this agreement as a victory for educators across the state, who have been on strike since Thursday, February 22nd, workers across the state ultimately reject leadership's compromise. An overwhelming number of public employees on the West Virginia Public Employees UNITED page have voted on a poll in opposition to the current deal.
The above-referenced page is a secret Facebook group claiming over 20,000 members where the ongoing strike was originally developed and put into action–without traditional union leadership input, according to Labor Notes.
Such a course of action is known as a "wildcat strike" but the wildcat-like nature of the strike was tamped down as union bosses quickly moved to follow their membership and endorsed the statewide school closure tactics–known colloquially as "55 Strong."
The IWW-WV press release continues, "At last count, over 1,000 voters rejected the deal outright, over 400 said the deal was a start, but ultimately rejected it, and only 21 said they accepted the deal as is. Workers in this state have shown the power of rank-and-file control over their counties' actions."
According to the Hampton Institute, a think tank centered on working class concerns, "Today, in 2018, the average annual salary for West Virginia public teachers is $45,000, making it the 48th worst state for educator pay in the nation."
Jonathan Williams, a teacher currently involved in the strike, noted that union leadership wants to give the governor's compromise time to work, but most teachers and state employees striking in solidarity dismissed the offer as a momentum-killing gesture which improperly frames teachers' demands as strictly-related to pay increases, "when really we've been focused on insurance."
As of Thursday morning, every public school spanning West Virginia's 55 counties was still closed due to the strike.
[image via screengrab/TheRealNews.com]
Follow Colin Kalmbacher on Twitter: @colinkalmbacher
Have a tip we should know? [email protected]