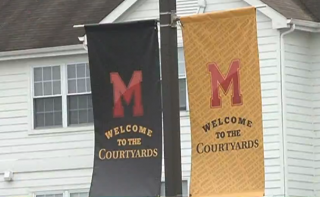 A graduation party attended by mostly black students at the University of Maryland over the weekend was broken up by campus police, and some say officers went too far, the Washington Post reported. According to a statement from the University of Maryland Police Department, officers responded to a 911 call claiming that there was a loud party with fighting and underage drinking at a campus housing location known as The Courtyards.
Police say that when the officers arrived, they were told that someone inside may have had a bat, and they decided to shut down the party. When people didn't obey repeated orders to leave and one officer was surrounded, the statement says, police used pepper spray to get the crowd to disperse. Police also acknowledged that pepper spray was used again during a confrontation in a parking lot.
But accounts differ as to what really went on, and students are upset. Some assert that racism was behind the police's handling of the situation.
How are you gonna use pepper spray at a Courtyard party with no fights going on smh….UMDPD has to do better smh

— Torrey Smith (@TorreySmithWR) May 21, 2016
As a woman who attends predominately white parties often: overcrowded, loud, under aged drinking…Police handled those VERY differently

— Lauren (@_lightbrightt) May 21, 2016
If you don't see what happened last night as a RACE issue then you are absolutely blind and I don't know what is.

— Mike Fernandes (@Fernandes_M3) May 21, 2016
Watched the police scream"FIGHT" in order to justify them bum rushing and hitting with batons. No one was fighting…

— XecutiVe (@CEORaph) May 21, 2016
University President Wallace Loh addressed the concerns, and assured students that the matter is being investigated.
I understand the anger and frustration. I remain very committed to fairness and transparency. Have asked UMPD for a thorough review

— Wallace D. Loh (@presidentloh) May 21, 2016
A second statement from campus police said that body camera footage is being reviewed and will be released to the community and media. Students who were at the scene have already posted videos to social media.
As people are leaving the party the police start pepper spraying for no reason… pic.twitter.com/03dNmmxuAG

— XecutiVe (@CEORaph) May 21, 2016
This is how @UMPD handles situations: Breaking and entering.
Pepper spray.
Assault.
Malicious threats. pic.twitter.com/Ug43VyaWhO

— Theós (@_zensei) May 21, 2016
Two students were arrested at the scene.
Have a tip we should know? [email protected]