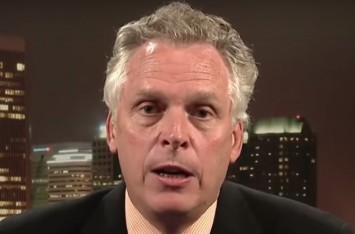 Republican lawmakers in Virginia filed a lawsuit on Monday asking the State Supreme Court to block Gov. Terry McAuliffe's order that restored full voting rights to over 200,000 convicted felons.
The Washington Post reports the lawsuit, filed by state House Speaker William J. Howell and state Senate Majority Leader Thomas K. Norment, argues McAuliffe exceeded his authority when he issued a blanket order to restore voting rights to 206,000 convicted felons.
"The Governor is authorized to restore the voting rights of any convicted felon through an individualized grant of clemency, but he may not issue a blanket restoration of voting rights and thus effectively suspend the Commonwealth's general prohibition on felon voting," the lawsuit states, according to the Daily Press.
"We simply cannot ignore this unprecedented example of executive over-reach," Speaker of the House Howell added during a conference call with reporters on Monday morning.
The GOP leaders also took issue with Gov. McAuliffe not differentiating between violent and non-violent offenders. Gov. McAuliffe tried to downplay those concerns by stating that at least 80% of those affected are non-violent offenders.  The Post reports GOP lawmakers dispute those numbers, but also note that even if true, it would mean about 40,000 violent offenders would be eligible to vote.
Given the state's critical role in the upcoming election, some critics of the order have suggested McAuliffe issued it to help his longtime friend Hillary Clinton in November. However, McAuliffe rejected such claims back in April, stating he issued the order as a remedy for Virginia's history of trying suppress the African-American vote.
Virginia was one of only four states that instituted a lifetime ban on voting for felons.
Have a tip we should know? [email protected]