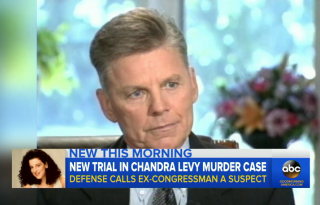 An old lead from an old case is being brought up as attorneys for a man convicted of murder prepare for a new trial. During the investigation into the death of FBI intern Chandra Levy, who disappeared in 2001 and whose body was found a year later, an early suspect was then-Congressman from California Gary Condit. Condit had a sexual relationship with Levy, which made him a person of interest, but law enforcement officials stopped suspecting him and ended up convicting Ingmar Guandique. Guandique is now facing a new trial, after his conviction was set aside, and his attorneys are now looking at Condit as the possible real killer, ABC News reported.
Guandique had supposedly admitted to killing Levy while in jail, and was convicted in 2010 with a 60-year prison sentence. The conviction was later set aside, after his attorneys argued that the confession didn't actually happen, and the cellmate who testified against Guandique was trying to cut a deal with prosecutors.
Guandique's lawyers said in a motion that Levy may have died as a result of bondage and rough sex with Condit. Knotted tights were found near Levy's body, and attorneys argue that they could have been used to restrain her. Condit's DNA had been found in Levy's home, but Guandique had allegedly attacked women in the park where Levy's body was located. Condit denied having any connection with the death.
The prosecutor handling Guandique's new trial called the defense's motion "salacious," and "an effort to taint the jury pool," according to ABC News, and an attorney for Condit said in a statement, "Mr. Condit was long ago cleared by law enforcement in connection with her murder. Now a public defender for Mr. Guandique is wasting tax payer dollars to re-assert accusations to support a defense theory that has been unequivocally rejected."
Have a tip we should know? [email protected]