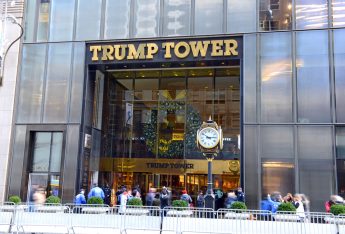 Secret Service agents reportedly caught a 19-year-old college student entering Trump Tower late Monday night carrying fireworks and a large knife.
WABC in New York reports the student was identified as Alexander Wang who attends Baruch College.  The incident occurred around 6:30 p.m. after Secret Service agents stopped Wang at the entrance of the building.
Agents searched Wang's bag and say they discovered a large knife, a smaller Swiss Army knife and fireworks.  He was also allegedly in possession of handcuffs and water pistol. The discovery led local cops to conduct a search of Wang's dorm room where they allegedly found even more fireworks.
Authorities have told reporters that they do not believe the incident was related to terrorism.
During an interview with authorities, Wang apparently told investigators he regularly studied at Trump Tower and had been inside the building close to a dozen times in the past month after the election.
As for his explanation for why he was carrying such an unusual assortment of materials — Wang allegedly told the investigators he was a "survivalist."
Charges are currently pending.
[image via shutterstock]
Have a tip we should know? [email protected]