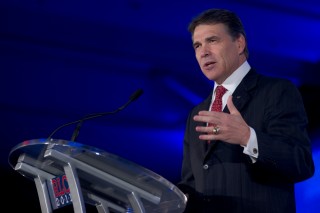 The Dakota Access Pipeline protesters just got a new reason to keep their Standing Rock encampment intact: former Texas governor and two-time presidential candidate Rick Perry, tapped today by President-elect Donald Trump to head his Energy Department.
Never mind that Perry — who now becomes the second of Trump's competitors named to his Cabinet (Ben Carson is slotted for Housing and Urban Development) — previously wanted to scrap the agency altogether.
Now the department will be helmed by a man whose biggest fan — as measured by donations supporting Perry's presidential bids — is Kelcy Warren, CEO of Energy Transfer Partners, the company behind the controversial pipeline. Warren gave super PACs supporting Perry's presidential bid $6 million last year, though he got nearly $4 million of it back after Perry dropped out.
And beyond that, Perry is on the board of directors of Energy Transfer Partners — a position he would have to relinquish, in all probability, if he's to become secretary. Earlier this month, the Army Corps of Engineers, in response to the protests in North Dakota, said it would explore alternate routes for the pipeline segment at issue, but the demonstrators on site fear the Trump administration will reverse that decision.
Perry raised just $1.4 million for his 2016 campaign, a fraction of what he brought in four years earlier. But his super PAC, Opportunity and Freedom PAC, brought in almost 10 times that much. Besides Warren, the most generous donors included rancher Julianna Holt and her husband, Peter Holt, CEO of Holt Companies, the largest U.S. Caterpillar dealership ($500,000). The Holts are more than just donors, though: According to a financial disclosure form Perry filed last year, the candidate had a $250,000 consulting gig with Holt.
Warren and Darwin Deason of Deason Capital Services (whose son, Doug, is a big player in the Koch network) each donated $5 million to a second super PAC, creatively named Opportunity and Freedom I, but were reimbursed most of the funds in late August. The group didn't report any independent expenditures, refunding $8.8 million and transferring the additional $1 million to the first Opportunity and Freedom PAC.
Top Household Donors to Rick Perry, 1998-2016

Data from the National Institute on Money in State Politics, OpenSecrets
Mostly thanks to these large donations, the oil & gas ($1.6 million) industry led the way in giving to Perry's campaign committee and super PACs combined. And that's a pattern that's been in place pretty much throughout Perry's political career; renewable energy advocates aren't likely to find much interest in their projects at the top of DOE's organizational chart for a while, assuming Perry is confirmed by the Senate.
The miscellaneous finance ($480,000) and livestock ($376,000) industries were a distant second and third.
Perry played a far better fundraising game in 2012, collecting $19.7 million for his campaign, almost all from donations of $200 or more. Oil & gas was No. 1 for him in that cycle ($1 million) after retired folks ($1.1 million); real estate professionals pulled in third ($926 million). His campaign's top donors came from Ryan LLC, Murray Energy and the United States Automobile Association.

Data from the National Institute on Money in State Politics, OpenSecrets
His biggest outside backer, Make Us Great Again (sound familiar?), spent almost $4 million trying to get Perry to the White House, with large donations coming from Dallas-based Contran Corp., formerly headed by now-deceased GOP funder Harold Simmons ($1 million); Kelcy Warren and Darwin Deason again ($250,000 each); and trial lawyer Tony Buzbee (also $250,000), who became Perry's general counsel two years later when a grand jury indicted him on two felony counts, later dismissed. (The Travis County grand jury charged him with "abuse of official capacity" for threatening to veto $7.5 million in funds for a public corruption department, and "coercion of a public servant" for pushing for the resignation of a district attorney after she was convicted of drunk driving.)
This was written by Ashley Balcerzak for OpenSecrets.org, and reprinted with permission by LawNewz.com. The original version of the story appeared here. OpenSecrets.org is a nonpartisan nonprofit organization which tracks money in U.S. politics
Have a tip we should know? [email protected]