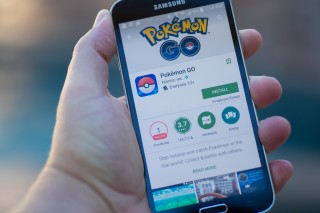 Pokemon Go is quickly becoming a phenomenon after rocketing to the top of the app store in the US and abroad. The app has encouraged more and more people to go outside and explore their communities. For those of you who do not know what Pokemon Go is, their trailer should help to explain it.
Basically, the game is similar to earlier additions of Pokemon games except it makes you the trainer and puts the Pokemon in the real world. The game encourages you to interact with other players in order to battle with them and trade your Pokemon. While it has encouraged people to go outside and explore the world,,  it has also apparently encouraged some crime.
In O'Fallon, Missouri, four teenagers were arrested after allegedly robbing at least 11 people using the app. Police say the teens drew their unsuspecting victims in using the app and then they would rob them at gunpoint. Most of the victims were playing alone and were not aware of their surroundings because they were focusing on their phones trying to catch Pokemon. While the four teens have been apprehended, other robberies using the app are expected and the police department has issued a warning for people using the app.
In Wyoming, a 19 year old woman, Shayla Wiggins, found a body while out searching for Pokemon.  Wiggins found the man lying face down in the Wind River while she was looking specifically for water Pokemon.
"I didn't know what to do. I was really scared, so I was just like, 'I should just call 911.' And then I called 911, and they told me to go wait up at the highway for a police officer," Wiggins said after finding the body according to KCWY News.
The police have reported that no foul play was suspected in the death of the man and have sent the body to the coroner for an autopsy.  While one would expect finding the body would lead to Wiggins dropping the game completely, she thought differently.
"Yeah, I might go get a water pokemon. I'm going to try," she said to KCWY News.
Many police departments have issued warnings about using Pokemon Go and most of them have been light hearted.  This one from the Crewe Police Department in Virginia tries to poke fun at users while also trying to protect them.
Not all police departments have been so light hearted in their attempts to protect Pokemon Go users. The Duvall Police Department in Washington has issued their statement to prevent Pokemon Go users from catching Pokemon near the police department late at night.
In case you have questions about how to keep yourself safe, LawNewz.com will be holding a Facebook live to answer your questions about how to protect yourself while playing the game. Head to our Facebook page and tune in at 4 p.m. on Tuesday!  
Have a tip we should know? [email protected]