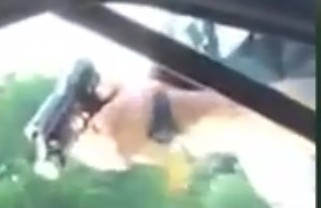 The attorney for Officer Jeronimo Yanez, who shot Philando Castile during a traffic stop in Minnesota last week, says that his client pulled over Castile for more than just a broken light on his vehicle. Thomas Kelly told the Star Tribune that his client thought Castile looked like a suspect in an armed robbery that had taken place in the area a few days beforehand.
Kelly also emphasized the fact that Yanez shot Castile because he had a weapon, not because of his race. "This has nothing to do with race, and everything to do with the presence of a gun," he said. "Deadly force would not have been used if not for the presence of a gun."
Albert Goins, a lawyer who assisted Castile's family after his death, said that the robbery suspicion doesn't add up, because it doesn't match Yanez's behavior. "A felony stop does not usually involve officers walking up to your car and asking you to produce your driver's license," he explained to the Star Tribune. "A felony stop involves bringing the suspect out at gunpoint while officers are in a position of cover and having them lie on the ground until they can identify who that individual is."
The Star Tribune reported that the Minnesota Bureau of Criminal Apprehension announced that there were two suspects in a robbery that took place on July 2. The newspaper said that both suspects have dreadlocks, which is the same hairstyle that Castile had.
Yanez and his partner, Joseph Kauser, are currently on paid administrative leave while the matter is being investigated.
Have a tip we should know? [email protected]