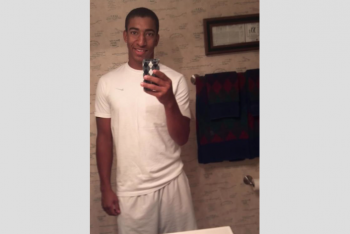 A 20-year-old man was shot and killed on Saturday after he broke into the home of an off-duty police officer in the small St. Louis County community of Lakeshire. Authorities believe the 20-year-old man was angry with the officer after a dispute about Black Lives Matter that began on Facebook.
According to the St. Louis Post-Dispatch newspaper, Tyler Gebhard issued threats on Facebook to the officer's family and "uninvolved members of the community" before breaking into the officer's home on Saturday afternoon.
St. Louis County Police Chief Jon Belmar told reporters that Gebhard threw a 50-pound concrete planter through a glass-door and entered the officer's home.  The officer's wife, mother-in-law and two small children — a toddler and an infant — attempted to hide in the bedroom as the off-duty officer went to stop the intruder.  Belmar said the family members reported hearing the off-duty cop tell Gebhard to "get down" several times before they heard gunshots.  Gebhard was shot twice in the chest and died at a local hospital.
The off-duty officer is reportedly in his mid-20s and a three-year veteran of the police force.  He is now on administrative leave, pending a full investigation.
"I don't think the officer had a choice — I honestly don't," Chief Belmar told reporters, according to the Post-Dispatch.  Belmar added the off-duty officer was in "a very difficult position."
Gebhard's Facebook page contains numerous references to police shooting unarmed black men and also contains warnings about a "race war," according to the newspaper.  Gebhard and the officer also reportedly were aquatinted through their local church.
Gebhard's uncle, Patrick Brogan, told the newspaper that his nephew had been struggling with mental health issues recently, including bi-polar disorder.  He also said the family was constantly staying on him to take his medication, but things seem to have gotten worse in the past few months.
"He had a lot of mental problems the last few months.  A lot of difficulties in life," Brogan said.
Chief Belmar said the off-duty officer's family reported Gebhard appeared to be in an agitated state when he approached the home on Saturday.
Have a tip we should know? [email protected]