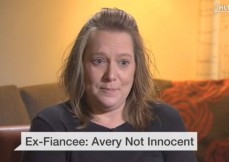 In a complete reversal from her portrayal in the hit Netflix series Making A Murderer, Steven Avery's ex-fiancée Jodi Stachowski is now saying that he is guilty of murder. She says Avery forced her to make him look good when the filmmakers interviewed her.
Avery, 53, was convicted of murder for the 2005 killing of Teresa Halbach. In the documentary, the producers raised major questions about how the investigation was handled — implying that investigators may have planted evidence on Avery's property in order to obtain a conviction.
In the series, Stachowski had a major role in the first few episodes — where you saw a 'loving' relationship between her and Avery. She is now saying that was all an act. In a Nancy Grace exclusive, Stachowski told HLN that Avery was abusive, and threatened to kill her. She even went so far as to call him a "monster." The show's producers found police reports, supporting some of her claims.
"I ate two boxes of rat poisoning, just so I could go to the hospital to get away from them," Stachowski said.
Watch the above video from the HLN YouTube Channel.
[image via HLN screengrab]
Have a tip we should know? [email protected]
Rachel Stockman - Editor in Chief / On Air Host