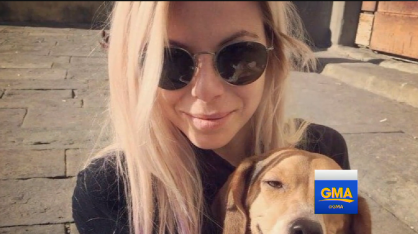 This morning, a suspect is in custody for the murder of Ashley Olsen, the American woman who had been living in Italy. A 27-year-old man from Senegal, who Olsen brought home from a bar has been arrested, and prosecutors say there is "very serious evidence of his guilt" according to Good Morning America. They say that Olsen's death is a result of a sexual encounter gone bad; his DNA is on a condom and a cigarette investigators found in Olsen's toilet.
Prosecutors believe that after they had consensual sex, and Olsen asked the man to leave her apartment, and he turned violent, pushing her. She hit her head and fractured her skull in two places, though the official cause of death is strangulation.
The man had been living in Florence illegally, and he was already on police radar for drug-related issues. He and Olsen were both intoxicated on the night of their encounter with alcohol, and possibly other drugs. When he left her apartment, he took her cell phone, which allowed police to track him down.
He is saying it was an accident, but as of now police are calling it aggravated homicide.
[h/t Good Morning America, image via screengrab]
Have a tip we should know? [email protected]