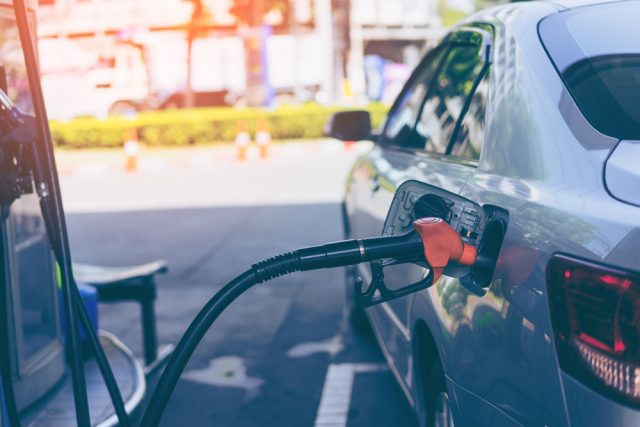 Texas Attorney General Ken Paxton filed lawsuits against local businesses on Tuesday for alleged price gouging in the days after Hurricane Harvey. Among them is Encinal Fuel Stop, a gas station near Laredo, which allegedly charged customers $8.99 and $9.99 for a gallon of regular unleaded gas on August 31.
While that station may be the most egregious known offender, they're certainly not the only ones. Perhaps more audacious was Bains Brothers, owners of two gas stations that allegedly charged $6.99 for a gallon of regular, while their own signs advertised prices between $3.00 and $4.00.
A third lawsuit filed by Paxton's office was against a Best Western hotel location that allegedly charged customers seeking shelter three times their normal rate the weekend Harvey came to town. According to the Texas Attorney General's Office, Best Western cut ties with hotel operator Robstown Enterprises, Inc. after learning about this.
It's unconscionable that any business would take advantage of Texans at their most vulnerable – those who are displaced from their homes, have limited resources, and are in desperate need of fuel, shelter and the basic necessities of life," Attorney General Paxton said in a statement. "Texas has tough price gouging laws, and my office will continue to aggressively investigate and prosecute cases arising from Hurricane Harvey."
In total, Paxton's office has received 3,321 complaints of price gouging related to Hurricane Harvey to date.
Those laws include §17.46(b)(27) of the Texas Deceptive Trade Practices-Consumer Protection Act, which prohibits "taking advantage of a disaster declared by the governor" by "selling or leasing fuel, food, medicine, or another necessity at an exorbitant or excessive price" or "demanding an exorbitant or excessive price" for those items. Price gouging violations can result in fines up to $20,000, or $250,000 if the acts are found to target people age 65 or over.
[Image via Shutterstock]
Have a tip we should know? [email protected]