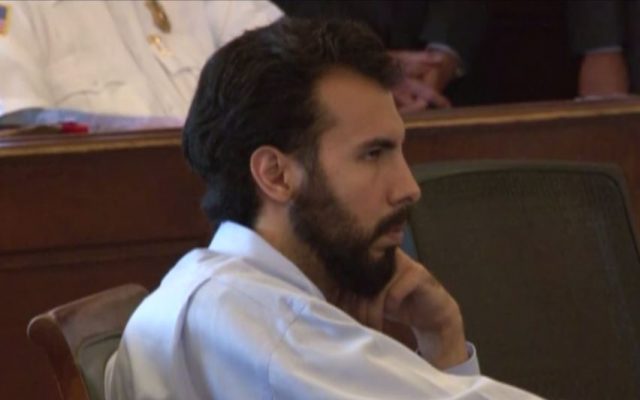 A Massachusetts jury has reached a decision in the trial of Adrian Loya, finding the former Coast Guard member guilty of shooting Lisa Trubnikova and her wife Anna Trubnikova on February 5, 2015, killing Lisa and injuring Anna. Both were also members of the Coast Guard. Loya was also convicted of shooting and injuring Police Officer Jared MacDonald, who responded to the scene. For Lisa's death, Loya was convicted of first degree murder, as the jury found that he acted with premeditation and cruelty.
Loya allegedly broke into the couple's Massachusetts home armed with multiple guns before opening fire on them, with a video camera strapped to his body to record the carnage.
According to police, Loya wrote a 250-page manifesto detailing why he wanted to kill Lisa. Her family has said Loya had been obsessed with Lisa since they were stationed together.
Loya's whole defense boiled down to him suffering from mental illness that rendered him unable to appreciate the wrongfulness of his actions. His defense argued that as a result, he should not be held responsible because he suffers from mental illness. Prior to the trial, Loya was examined by a psychiatrist and deemed competent to stand trial.
An emotional point of the trial came when Anna Trubnikova took the stand, providing a detailed account of her experience the night of the shooting, including Lisa's final moments alive. During her testimony, the court also heard her 911 call reporting what happened.
With regards to Loya's mental state, several medical professionals testified with their expert opinions as to the defendant's condition and whether he could be held accountable for his actions. One expert said Loya had Asperger Syndrome, another said he had personality disorders, and yet another said he had a depressive disorder. Some experts believed that despite his condition, Loya understood that what he was doing was wrong, and was capable of conforming his behavior to the law. Others felt that he didn't completely understand what he was doing.
During closing arguments, the defense pointed out the discrepancies between the expert opinions, casting doubt on whether Loya should face consequences for his actions. The prosecution said of course Loya had some sort of mental defect, but that doesn't mean he shouldn't be held accountable. This was a revenge killing, they said, and Loya even said this to police.
Ultimately, the jury agreed with the prosecution and held Loya accountable.
[Image via LawNewz Network screengrab]
Have a tip we should know? [email protected]