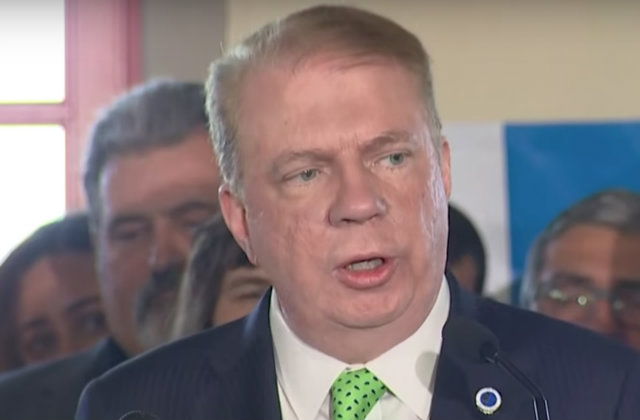 A second cousin of Seattle Mayor Ed Murray is now the fifth man to publicly accuse him of sexual abuse. Not only that, but this new claim has led the embattled politician to resign.
In a signed declaration from early September, Joseph Dyers swore that Murray molested him in the mid-1970s. He spoke to the Seattle Times about his claim.
Now 54, the Air Force veteran says he was 13 when the abuse started. It allegedly lasted for a year. Murray, first cousins with Dyers' mom, moved in to live with them at their home in Medford, New York. His mother had died. Once there, he got a job at a tire store, then moved on to work for the Diocese of Brooklyn's Little Flower group home. And he would come back home to the room he shared with his second cousin.
Dyers claims Murray made him have oral sex.
"I felt it was wrong and I felt dirty," he said, claiming that Murray "told me it would be OK and it would be our secret and not to tell anybody."
He claimed the molestation ended after a boy at Little Flower said Murray committed abuse. A spokeswoman at the group home, which still operates, confirmed to the Times that Murray worked for them from June 4, 1975 to Aug. 29, 1976, but she said she discovered no records showing why he left.
His mother Maryellen Sottile also spoke to the outlet, saying that a boy did accuse Murray of abuse.
"We all believed people didn't do that," she said. "This is 40-some years ago, and you know, 'Edward wouldn't do that.'" But she claimed Dyer told her all about his own abuse several months after Murray moved out.
The mayor, for his part, says the new allegation is false, and criticized the Times for covering this.
"You've never been willing to portray anything but one side of the story," he said. "But on this one, this is bizarre beyond belief."
Murray, 62, claims the allegation stems from a split in the family, which began with a common-law marriage between his sister and Sottile's brother.
"There's been numerous fights between our two families for many years, and much ugliness," he said. "I guess they see me down and out, and they want to finish me off."
Four other men publicly claim Murray abused them as minors. Jeff Simpson, now 49, Lloyd Anderson, 52, Maurice Lavon Jones, 44, and Delvonn Heckard, 46, all say he molested them. His alleged M.O. was to take advantage of the teens, who were vulnerable in one way or another. For example, Jones said he was a drug-addicted prostitute, and Murray paid him for sex. Simpson said he was abused when living with the future-mayor as a foster son in the 1980s.
Dyers' signed declaration is part of Heckard's lawsuit against Murray. The mayor's second cousin says he stepped forward after learning about the other allegations.
Murray has denied all claims against him, and argued that these are politically motivated. The mayor, a gay man with a reputation as a progressive Democratic, has long refused to resign. That changed on Tuesday.
Mayor Ed Murray will resign. His statement: pic.twitter.com/qEpAbcMxX3

— Heidi Groover (@heidigroover) September 12, 2017
Update – Sept. 12, 4:32 p.m.: Amid this fifth allegation, Murray announced Tuesday that he will resign. The story has been updated to reflect this.
[Screengrab via NBC News]
Have a tip we should know? [email protected]