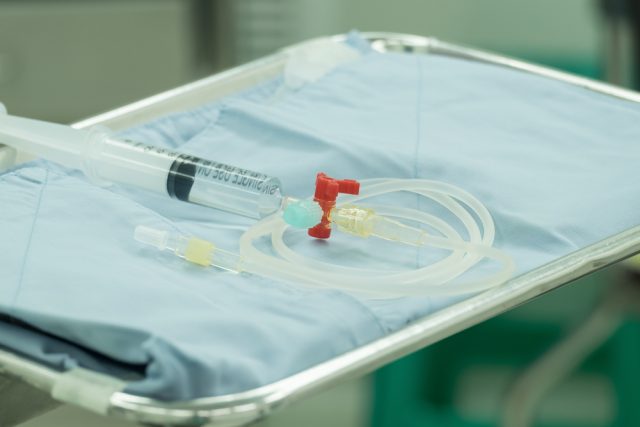 The state of Arkansas hasn't executed anyone in more than 10 years, but next month, they plan on sending eight inmates to their death in the span of 10-days. The move has sparked controversy, not only due to the circumstances of the death row inmates, but also the reason for the rush: one of the drugs used in the execution process is set to expire at the end of April.
The drug in question, midazolam, is a sedative used to render people unconscious before lethal injections are administered. Last month, Governor Asa Hutchinson scheduled the April executions in order to get them done before their supply of midazolam expires. "In order to fulfill my duty as Governor, which is to carry out the lawful sentence imposed by a jury, it is necessary to schedule the executions prior to the expiration of that drug," Hutchinson told NPR.
Midazolam has been scrutinized over the years after a number of executions that used it had complications. One case resulted in an inmate gasping for air before dying two hours and 15 injections later. Still, the Supreme Court ruled that it does not qualify as cruel and unusual punishment.
The plan to rush the executions also poses legal issues, according to attorneys involved. John Williams, a public defender representing four of the eight prisoners, says that there isn't sufficient time to go through clemency appeals and other legal processes that can only be done once an execution date is set.
Harvard Law School's Fair Punishment Project issued a report on the eight inmates, describing what could be considered mitigating factors in their cases. At least five of them have "a serious mental illness or intellectual impairment," according to the report, and another allegedly suffered "shocking sexual and physical abuse," including being pimped by his mother. In multiple cases, they may not have had adequate representation, with some lawyers missing deadlines, and one even being drunk in court.
At the same time, all of the inmates have been convicted of murder, with some also being guilty of other crimes, and they've been on death row for years, if not decades. So while their executions may be taking place soon after the dates were announced, and all within a short span, the overall process hasn't exactly been rushed. Gov. Hutchinson said it's "important to bring closure to the victims' families who have lived with the court appeals and uncertainty for a very long time."
What may not often come to mind is that aside from the inmates, executions can take a toll on other people involved — the executioners. Allen Ault, former commissioner of the Georgia, Mississippi and Colorado departments of corrections, in an op-ed for Time said that scheduling so many executions close together "will increase the risk of mistakes in the execution chamber — which could haunt them for the rest of their lives." Ault who has presided over five executions, said that even without errors, it's a task that can be damaging to those involved. Killing a person, he says, "exacts severe mental trauma — even when done under the auspices of state law."
Have a tip we should know? [email protected]