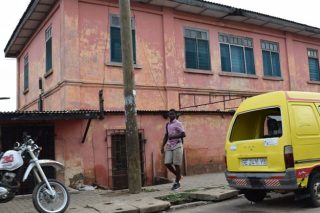 The U.S. State Department announced over the weekend that authorities in Ghana have shut down a phony U.S. embassy in the city of Accra. An international criminal organization used the building to distribute authentic American visas for a decade, according to a Department statement.
"It was not operated by the United States government, but by figures from both Ghanaian and Turkish organized crime rings and a Ghanaian attorney practicing immigration and criminal law," the statement said, adding that the phony officials were Turkish citizens who spoke English and Dutch.
The fake embassy was shut down over the summer, through cooperation between the assistant regional security officer investigator at the real embassy in Accra, the Ghana Police Force, Ghana Detectives Bureau, and "other international partners." Authorities were tipped off to the operation during the larger scale "Operation Spartan Vanguard," which addressed other trafficking and fraud issues.
The State Department said that the fake embassy flew an American flag outside on Monday, Tuesday, and Friday mornings, with a portrait of President Barack Obama hanging inside. They reportedly did not take walk-in customers, but shuttled people in, offering "fraudulently obtained, legitimate U.S. visas, counterfeit visas, false identification documents (including bank records, education records, birth certificates, and others) for a cost of $6,000." It is unclear from the statement how the crime ring got the authentic documents in the first place.
[Image via U.S. State Department]
Have a tip we should know? [email protected]