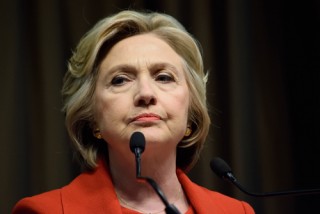 Attorneys for the  U.S. Department of State are trying to block the deposition of Democratic frontrunner Hillary Clinton in a FOIA case that is making its way through federal court. State Department attorneys believe the request to depose Clinton is "wholly inappropriate" given a ruling in another case.
This case involves a lawsuit brought by Judicial Watch, a conservative watchdog organization. The group had filed FOIA requests seeking information and talking points about the attacks of September 11, 2012 in Benghazi, Libya.
In their response to a proposed order for discovery, the State Department contends that many of the depositions that the group is seeking would overlap with depositions scheduled to take place in another lawsuit filed by the same group.
With regards to Clinton's deposition, specifically, the State Department attorneys contend:
Judicial Watch's request to depose Secretary Clinton is wholly inappropriate given Judge Sullivan's prior ruling on the matter. Per his Order, "[i]f [Judicial Watch] believes Mrs. Clinton's testimony is required, it [may] request permission from the Court" to conduct such a deposition after discovery in that case is complete, and after citing "information learned during discovery" demonstrating that "the deposition of Mrs. Clinton [is] necessary." Sullivan Order at 14. Judicial Watch itself proposed that approach to Judge Sullivan, see Proposed Discovery Plan 2, Judicial Watch, No 13-cv-1363, ECF 58-1, and it offers no reason for deviating from it here. Indeed, doing so would allow the discovery proceedings in this case to jump ahead of the proceedings in Civil Action 13-1363, which the Court here specifically sought to avoid in its Order.
The State Department also says that the scope of Judicial Watch's proposed discovery in the case is "excessively broad." "Here, Judicial Watch identifies three categories of documents — and additionally seeks to depose seven individuals o those topics — each of which stray far beyond the bounds of its original FOIA request and the Court order," the motion reads.  The request came just hours before Clinton's former Chief of Staff, Cheryl Mills, was set to testify in separate Judicial watch case that seeks to determine whether the State Department and Clinton acted in good faith in responding to FOIA request.
Judicial Watch v. U.S. Department of State
Have a tip we should know? [email protected]
Rachel Stockman - Editor in Chief / On Air Host