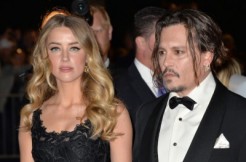 Escalating up an apparently sudden divorce battle, actress Amber Heard told a Los Angeles judge on Friday that actor Johnny Depp hit with her an iPhone, causing swelling around her eye. Gossip Cop reports that she's successfully filed a restraining order, requiring Depp to stay at least 100 yards away from her.
In court, Heard said the assault happened on Saturday. She'd been talking to a friend on the phone when Depp allegedly flipped out, and trashed the apartment. Police arrived (the friend called 911), but Heard said she didn't make a statement, though Cops reportedly asked to keep in touch if she changed her mind. She claimed Depp offered her money to keep her mouth shut. Heard even supplied a photo showing an apparent black eye.
"Given the brevity of this marriage and the most recent and tragic loss of his mother, Johnny will not respond to any of the salacious false stories, gossip, misinformation and lies about his personal life. Hopefully the dissolution of this short marriage will be resolved quickly," a Depp spokesperson told PEOPLE magazine shortly before the judge approved the restraining order.
Heard filed for divorce on Monday, citing irreconcilable differences. Both sides argued over whether Heard actually got along with Depp's family.
–
Follow Alberto Luperon on Twitter (@Alberto Luperon)
Have a tip we should know? [email protected]