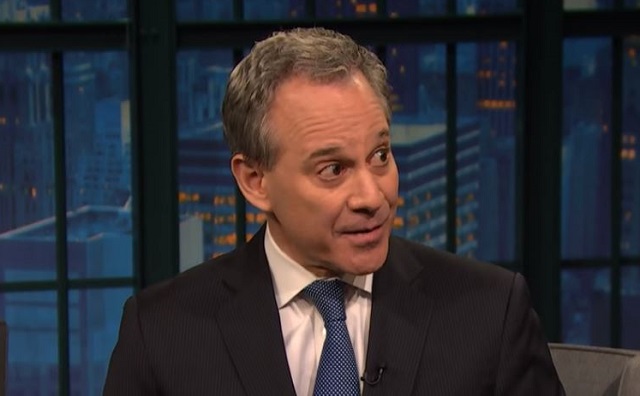 While President Donald Trump insists that he won't get rid of Special Counsel Robert Mueller during the Russia investigation, one man is prepared to take action in case that happens. New York Attorney General Eric Schneiderman said in a New York Times interview that while he hopes this does not occur, "If that happens, we'll do — as I think would be a genuine sentiment around the country — we'll do whatever we can do to see that justice is done."
Schneiderman has never been shy about engaging in legal battles with Trump or other Republicans in Washington. His office conducted a criminal probe of money laundering allegations against former Trump campaign head Paul Manafort, stepping aside when Mueller's investigation headed into that territory. Schneiderman also recently filed his one hundredth action against the current government by moving to sue the FCC over its repeal of net neutrality policies. The New York AG's office also fought against all three of President Trump's travel ban orders.
Schneiderman remains undeterred in what he views as a significant role in protecting New Yorkers from Washington.
"We try and protect New Yorkers from those who would do them harm," he told the Times. "The biggest threat to New Yorkers right now is the federal government, so we're responding to it."
Prior to Trump taking office, Schneiderman also brought a fraud case against Trump University, reaching a $25 million settlement.
Trump has long been at odds with Schneiderman, taking to Twitter in the past to blast him with names like "lightweight" and "total loser."
Others view Schneiderman and his counterparts in other states as the last line of defense, should Trump decide to issue pardons related to Mueller's investigation, or if the Mueller probe comes to an untimely end. Presidential pardons only apply to federal matters, not state charges. If there are any state charges that Schneiderman can file against Trump or his associates, he would be prepared to do so, if Mueller doesn't get to finish his job.
"But," he said, "I hope we don't have to face a problem like that."
[Image via NBC screengrab]
Have a tip we should know? [email protected]