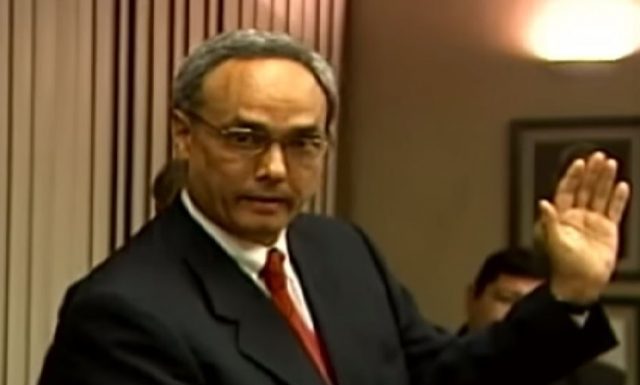 NEW YORK (AP) — After convicting two former South American soccer officials of bribery, a U.S. jury is set to return to court on Tuesday to decide the fate of a third official charged in the FIFA scandal.
Jurors found Juan Napout, of Paraguay, and Jose Maria Marin, of Brazil, guilty on multiple conspiracy charges after a week of deliberations in federal court in Brooklyn. But they told U.S. District Judge Pamela Chen that they were divided over a verdict for Manuel Burga, of Peru, on his single racketeering charge. Chen told them to come back and try again after the holiday weekend.
The judge immediately jailed Marin, 85, and Napout, 59, agreeing with prosecutors that if left free, the men had enough connections and wealth to flee the U.S. to avoid prison terms, which she said could be more than 10 years on the top charge alone.
Burga, 60, the former president of Peru's soccer federation, was allowed to remain free on bail pending the outcome of his case. His lawyer, Bruce Udolf, said his client was hopeful that the jury would clear him.
Marin, Burga and Napout had been arrested in 2015. Prosecutors accused them of agreeing to take millions of dollars in bribes from businessmen seeking to lock up lucrative media rights or influence hosting rights for the World Cup and other major tournaments controlled by FIFA.
The three were among more than 40 people and entities in the world of global soccer charged in the U.S. in connection with an investigation that uncovered hundreds of millions of dollars in bribes and kickbacks. Many of the other defendants pleaded guilty.
During the trial, the defense argued that the men were innocent bystanders framed by untrustworthy cooperators angling for leniency in their own cases. Burga's lawyer claimed there was no proof he took bribes.
"I would submit to you that never has more been made of less evidence," Udolf said.
Burga got some unwanted attention early in the trial when prosecutors claimed he unnerved the government's star witness, a former marketing executive from Argentina, Alejandro Burzaco, by directing a threatening gesture at him — running his fingers across his throat in a slicing motion. The lawyer claimed his client was merely scratching his throat, but the judge took the incident seriously enough to tighten Burga's house arrest conditions.
[Image via screengrab]
Have a tip we should know? [email protected]