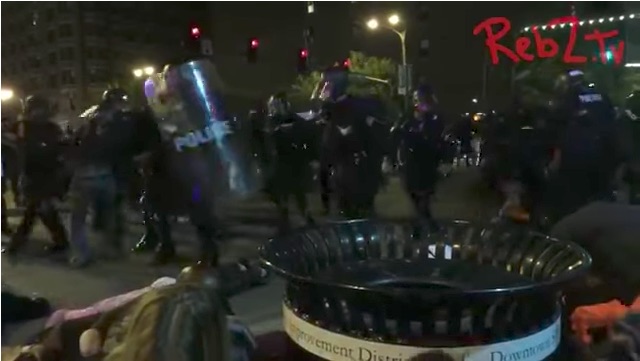 A business owner is feuding with local police and their supporters after his restaurant was allegedly attacked by riot cops in the aftermath of widespread protests against the acquittal of Jason Stockley last Friday.
Chris Sommers owns Pi Pizzeria in downtown St. Louis, Missouri. He's always been a supporter of police charities and gives officers with the St. Louis Metropolitan Police Department (SLMPD) free or reduced meals. But, according to an open letter penned by Sommers, "No good deed goes unpunished."
Sommers described what happened at his restaurant last Friday night, "[A]t approximately 11:15pm, the SLMPD shot at me and gassed me. They did this, ostensibly, because I was screaming at them from across an empty street to stop terrorizing my dinner guests and team who were dining peacefully on a corner devoid of protestors or agitators."
His open letter continued:
After [the police] threw a tear gas canister at me…a guy next to me picked it up and threw it back at them, either to get it away from him and others at Pi, or because he felt violated and wanted to return the poison. They certainly didn't like that, and finally crossed the street, rushing at me as I ran into my restaurant and barely got the door closed before they could break in. Yes, I had to lock down my restaurant for the first time from the St. Louis Metropolitan Police Department. I then had to close the restaurant, buy dinner for remaining guests and ensure that my team, who were now all terrified from the gas and rush by the police, had a safe ride home. I repeat, we only closed our restaurant this weekend out of fear of police, not protestors or the shitheads vandalizing.
Prior to being gassed and attacked, Sommers says he witnessed SLMPD riot cops shooting rounds indiscriminately into the air. Again, from the open letter:
[O]n my way home, I looked south and saw a wall of militarized police marching in line to our corner. It was immediately alarming because they were not pushing any protestors or clearing anyone from the street. They were approaching an empty block, marching by themselves with gas masks, guns and shields. I immediately stopped my car and ran back to my restaurant, still baffled why they were coming our way. When they reached the corner, at least one of them began shooting indiscriminately, at absolutely no one. Some of the shots (pepper pellets, I later learned) were directed towards the air, so it appears they were just trying to intimidate.
After the small business owner began to speak out about what occurred during the protests, a revenge campaign of sorts was set into motion by the pro-police organization Blue Lives Matter. In a post on Facebook and their official website, Blue Lives Matter put Sommers on blast and not-so-subtly urged supporters to give the restaurateur a piece of their minds. Their post claims that Sommers favored protesters by giving them free water–while Sommers contends that he passed out water to cops and peaceful protesters alike. Blue Lives Matters' post ends with this line, "Let's get the word out that if you bash the police, you won't be getting our business," while the Facebook post is captioned with the following threat, "If you're going to bash the police for protecting your business, you better expect that people will notice at [sic] tell others."
The St. Louis County Police Association joined in on the anti-Sommers revenge campaign, and posted the following call to action:

There are reports of people calling the restaurants tying up their phone lines expressing their feelings about the owners [sic] anti-police comments. We have been busy protecting everyone's free speech during the demonstrations. Here are the numbers if you feel like your freedom of speech needs a little exercise.
Sommers describes even more police harassment in his open letter, "They have been terrorizing my teams on the phone (after the union posted all of our phone numbers on Facebook), threatening me and my businesses, and falsely claiming my businesses were protected by the police…These people are now calling for our windows to be broken, and based on their words, I don't doubt they will do it themselves."
Sommers is now claiming that he has received threats of violence from pro-police organizations and believes those threats to be credible. It's worth noting that pro-police organizations and their supporters typically draw from the ranks of current and former law enforcement, their immediate friends and family members.
Sommers continued, "The Blue Lives Matter (Only) people who are threatening me and my business use phrases like "Black Lives Don't Matter" in their messages. They all have Trump and "Make America Great Again" tags in their profiles. Oh, and they generally seem to love Jesus. It just doesn't compute."
According to Sommers' letter, police and their supporters are also harassing his businesses by leaving hundreds of one-star reviews on Yelp, Google and Facebook. The American Civil Liberties Union is now involved and Sommers is slated to testify in federal court about the alleged police abuses sometime this week.
LawNewz reached out to the SLMPD for comment, but a reply was not forthcoming at the time of publication. This post will be updated if and when a response is received.
[image via screengrab]
Follow Colin Kalmbacher on Twitter: @colinkalmbacher
Have a tip we should know? [email protected]