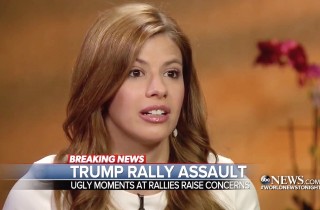 The former Breitbart.com reporter, Michelle Fields, who claimed Donald Trump's campaign manager, Corey Lewandowski violently pushed her at a Trump rally, is apparently quite disappointed that Florida prosecutors are not moving forward with the battery case against him. She's dropped several not-so-subtle hints that a civil lawsuit might be in the works. So as we do here at LawNewz.com, we checked in with our experts. Here's the bottom line: Fields would have a pretty tough hill to climb to win a case against Lewandowski.
First, what would her claims for defamation be? Most likely a series of very insulting tweets by Lewandowski after the initial incident occurred:
Daily Caller reporter assaulted by NYPD during 'Occupy' protests — professional reporting or attention seeking? https://t.co/FqOQQMvNcy

— Corey Lewandowski (@CLewandowski_) March 10, 2016
Michelle Fields is an attention seeker who once claimed Allen West groped her but later went silent. https://t.co/J86Ej42eYx

— Corey Lewandowski (@CLewandowski_) March 10, 2016
@MichelleFields you are totally delusional. I never touched you. As a matter of fact, I have never even met you.

— Corey Lewandowski (@CLewandowski_) March 11, 2016

Despite Lewandowski claiming he never touched Fields, Jupiter police released video where you can clearly see Lewandowski come into contact with her at the Florida rally.
Okay, so now for the legal arguments. We checked in with our founder's father, Floyd Abrams, prominent First Amendment attorney, and George Washington University Law Professor, John Banzhaf.
Mr. Abrams wrote us in an email:
There are a number of hurdles that Fields would have to overcome in a libel action. First, did Lewandowski say something about her that was defamatory? Saying someone is 'delusional' in this context could be read to mean something worse–that she was lying. But in an overheated political campaign that's not a necessary reading. Second, was what he said a false statement of fact as opposed to opinion? The "no touching" assertion might meet that test. But then she has to overcome the most difficult barrier of all since she as he would be viewed as a public figure—did he say what he did with what is (unfortunately) called actual malice but which means with knowledge of falsity or a high degree of awareness of probable falsity. I have no idea of his state of mind on the issue but that's a tough barrier to clear in most cases, especially because it must be proved by clear and convincing evidence.

Bottom line: not necessarily a losing case for her but a difficult one with the odds in his favor.
Professor Banzhaf addressed Field's case, and also reports that Lewandowski may file a defamation against Buzzfeed, for a story they wrote about supposed sexual advances that Lewandowski made on female reporters:
Any such law suits would also open each to a detailed scrutiny of the own private lives [under pre-trial discovery] and, it appears from various media reports, both have things that they would rather not have brought out into the public.  However, either or both suits would keep the story alive from a media point of view.

Both Lewandowski and Fields appear to be "public figures."  As such, they can win a defamation law suit only if they can prove that the defendant(s) knew that the statement was false, or made the statement with reckless disregard of the truth.  Historically, this has been very difficult to prove in defamation cases.

There's also an issue of whether a jury would conclude that any defamation has even taken place – i.e., the one deliberately lied about the other.  The central factual dispute seems to be over the alleged touching.  He says he didn't touch her at all, and she claims it was a violent touching which almost threw her to the ground.

The tape appears to show that some very mild touching probably occurred, but far short of what Fields appears to claim.  But the grainy far shot in the video is far from conclusive.  Also, the difference between their two versions could well be seen as a matter of degree, rather than a fundamental difference such that one or the other is lying.

So, while each has used strong language in describing their different of opinion, a jury could easily see it more as a mere different of opinion over the severity of the touching (or even if it occurred at all) rather than as such a fundamental difference that one knew that he or she was lying.

Finally, there probably would be a major problem of proving any real damages.  Lewandowski still has his job, and enjoys Trump's backing.  If he is fired, it will probably be because of problems with Trump's polling numbers, not the touching incident.  In short, not much if any damage as a result of the allegedly defamatory allegations.

Indeed, an otherwise relatively obscure reporter is enjoying a type of fame which is more likely to help than to hurt her career – or at least it will be difficult to prove otherwise.  In short, not much if any damage as a result of the allegedly defamatory allegations.
Have a tip we should know? [email protected]
Rachel Stockman - Editor in Chief / On Air Host